YB Talks: BKK
26-11-2020
• Interview, Music
Met onze interview serie YB Talks schijnen we ons licht op getalenteerde jonge creatieven, muzikanten en ondernemers die naar ons idee het verschil maken in deze rare tijden. Talent waarvan de wereld het bestaan moet weten, met verhalen waarvan we hopen dat ze jullie inspireren. Dit keer interviewden we BKK. We spraken met BKK over het maken van muziek in zijn slaapkamer in Gabon, zijn verhuizing naar Nederland, het winnen van de Grote Prijs van Rotterdam en zijn nieuwe single ("Come to Me"). Foto's door Floor Besuijen. Interview door Natascha Sommerhalter.
Hi! Who do we have the honor of speaking with today?
My name is Benoit. My artist name is BKK. I was born in West Central Africa in the country of Gabon from a Gabonese father and a French mother. I have grown up a little bit all over the world and decided to live in the Netherlands for my studies. That is also where I've been making music over the last seven years.
So, you've been making music for a while now, how did that passion develop during your youth?
I've been making music for about 10 years now, since 2010. Music has always been a part of my youth or let me say childhood. I was always exposed to a lot of music through my father, mainly hip-hop for some reason, however it was predominantly American hip-hop. That later on grew, with more French hip-hop influences when I was staying together with my brother and mom. My brother used to put on Skyrock Radio and that actually put me on to French music quite a bit, but that was for a short period of time. Until that point, I hadn't done anything music related of my own. When I was in Nigeria, I often had to stay in my room because there weren't necessarily any social activities for kids, just because of the security measures that were in place around me. They would always want us to stay home. Without consciously thinking of it, I was looking for outlets to express myself and just keep myself busy. I would dance in my room for hours and then slowly came music. It started by looking up YouTube beats and trying to come up with rhymes. This later on grew and turned into me purchasing studio type equipment. Finally, I started making music from the comfort of my bedroom. That was pretty much the first three years of making music, just me making music in my bedroom.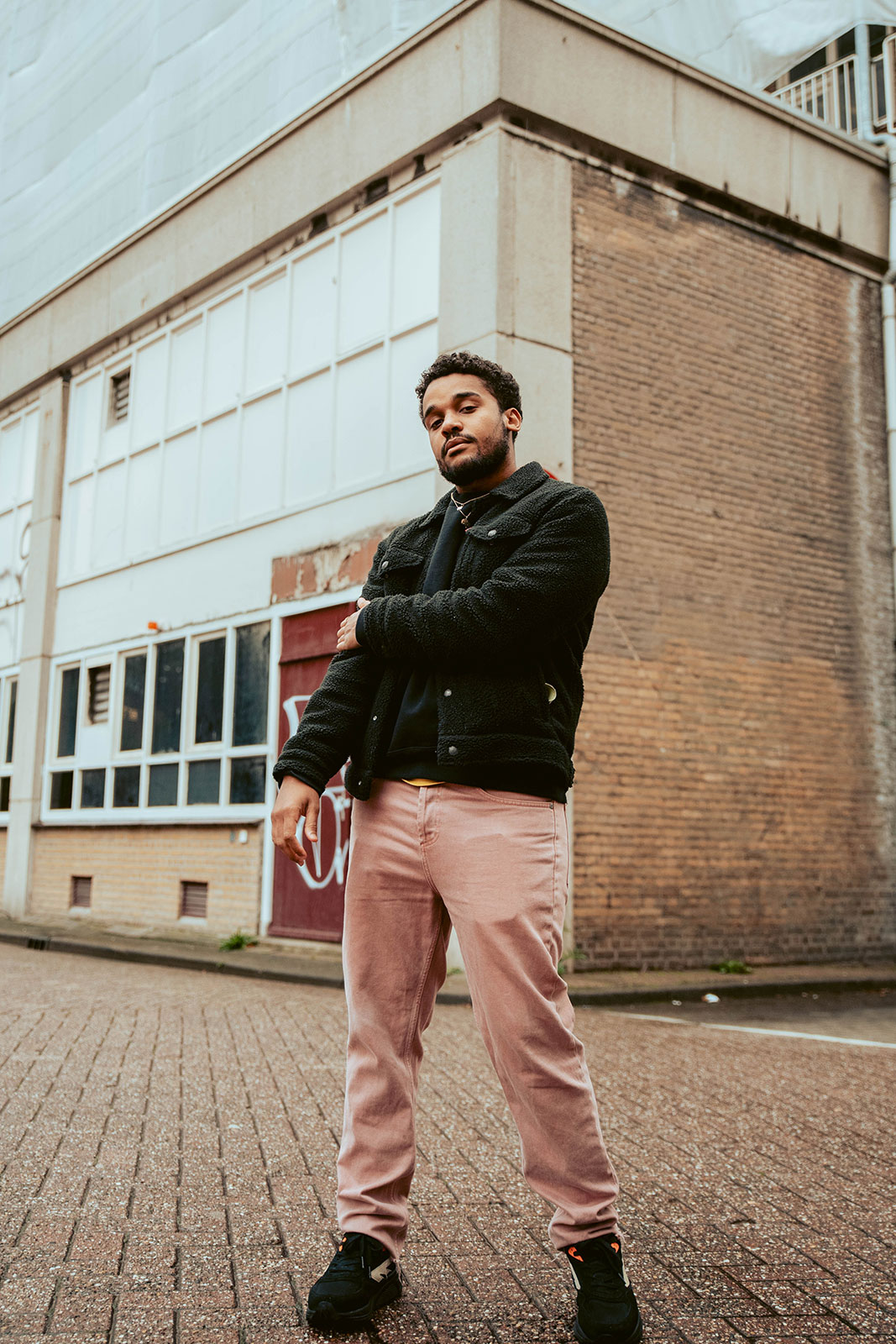 You've got quite a connection to France, can you tell us about that?
I do, I've had two tracks for which I've collaborated with the French fashion brand and music label called "Kitsuné". I was put in contact with that brand with a friend and producer of mine named "Lorkestra". He put me on to them and that's where the relationship started. Together with Kitsune, I released " Do ya " and "May" (late night version) which remain my most played tracks to this day. Their success is partly due to the popularity of their brand and my songs playing in their stores worldwide. However, my experience with them was more about making music that fits their world and let's say, their musical genre and target group, which is a bit more house-like. Because mind you, the songs that they've released are not the only songs they've received from me and that they've considered.
So they pretty much knew what they wanted and I've understood that taste. And now I know what I should pitch if I wanted to, you know, have other songs featured with them. However, it's not always within my comfort zone. Therefore, it's not something I actively do, but yeah, the French scene definitely influenced me just because I've organized parties there and done small gigs there. You also have great initiatives there which are taking place such as 99GINGER. It's then fair to say I've met a part of the local scene and my name has been dropped a little bit here and there, which facilitates the process of making connections.
You are what we could call self-taught. Can you describe what that process was like?
It started off when I was fifteen by buying an AKG perception microphone, which was the cheapest I could find, but that had high ratings on Google, according to my understanding of google at the time haha. And then I got an audio interface, a microphone stand, and a pop filter. I got those three items and then looked up beats online, downloaded the software called Mixcraft, and I just pressed record. I just tried playing with all of those knobs that were on that software until it sounded right. That was music making for me 101 haha. I also watched a bunch of how-to videos, even though back then, the how-to videos were on the come up, meaning there wasn't as much information. After that, people would just come to my place to record, because I was that kid that could record. So in my last three years of high school in Gabon, people knew me as that kid that made music at home in his bedroom. And I was rapping in English and we were in a French speaking country. This was a bit confusing for some. Finally, people would just come to my place and I realized that I could make money off of it. I started charging people and then it got to a stage where I was invited in other studios and met a network that introduced me to more artists. I can't say I'm known in the local scene. However, I know a lot of local actors in the scene.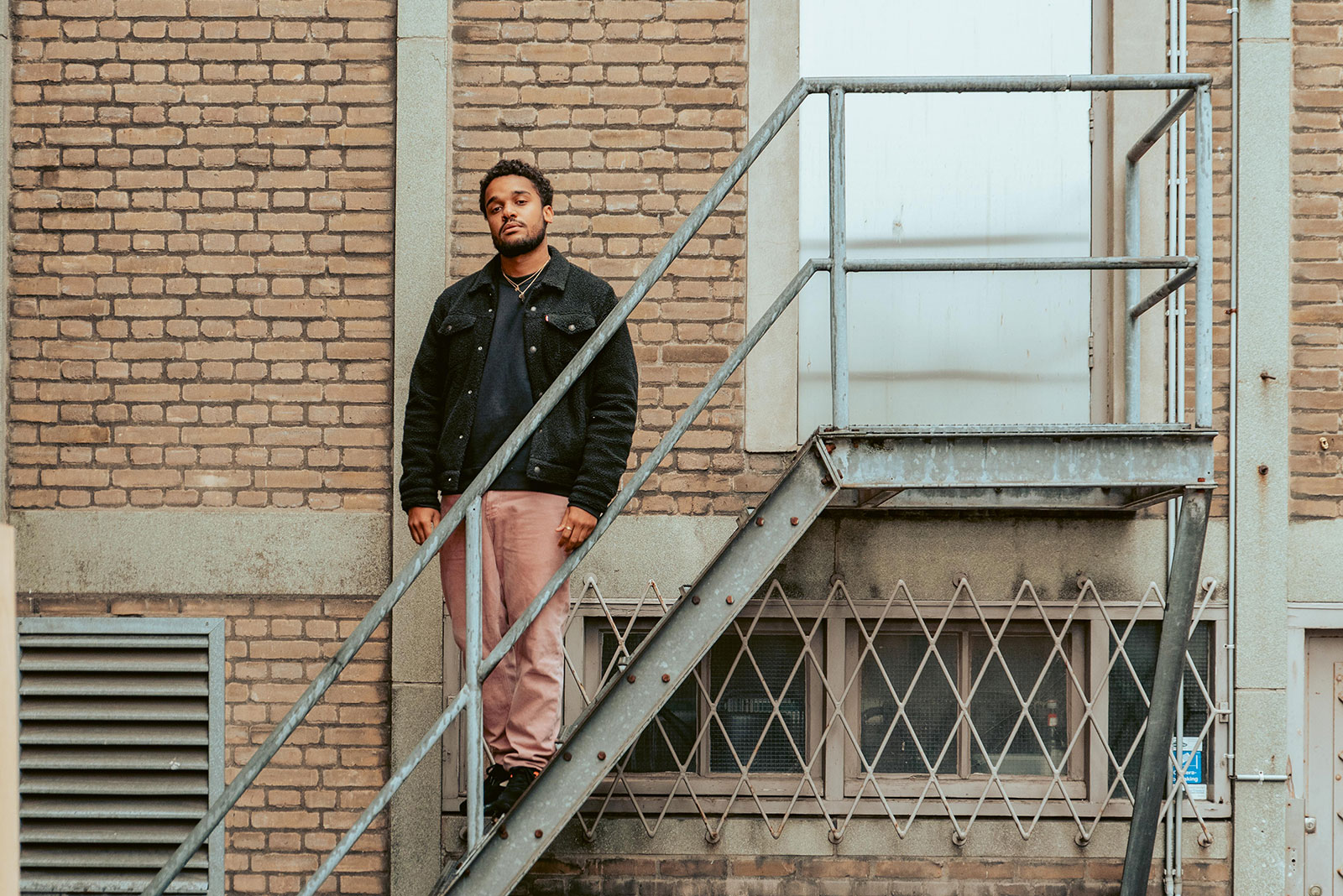 How did you start making music in Rotterdam?
So in Rotterdam it's interesting, it started off with me meeting a guy named Peaceley aka Presmo-ll, and he was actually a cousin of a friend I met at University. Peaceley made music, and I got introduced to him. We met and were just young and trying to make music. He and I recorded my first track in NL together. He later on introduced me to PSL who's a known underground rapper and producer with his own record label called Eastgarden Music. His studio was located in de Terp and that's where my next moves took place.
PSL actually recorded all my first songs, such as December 23, Trip and the Third Culture Kid EP. It was all at his place. And then I gradually met other people when I got into Whyou, a Rotterdam collective. At that time, I met Michael aka Sterke Atleet which is producing most of my songs right now. And obviously I can't tell this whole story without mentioning that this transition period was happening with me making music with Daely formerly known as Shawn Switch. I made music with him since my beginning in the Netherlands. In 2014, that was the year when I decided I'm no longer using beats that can be found online and I'm going to do my own productions. So that was a transition period and that's when I met Daely. He took my music game to the next level by making the beats of my songs. That meant no more Youtube beats.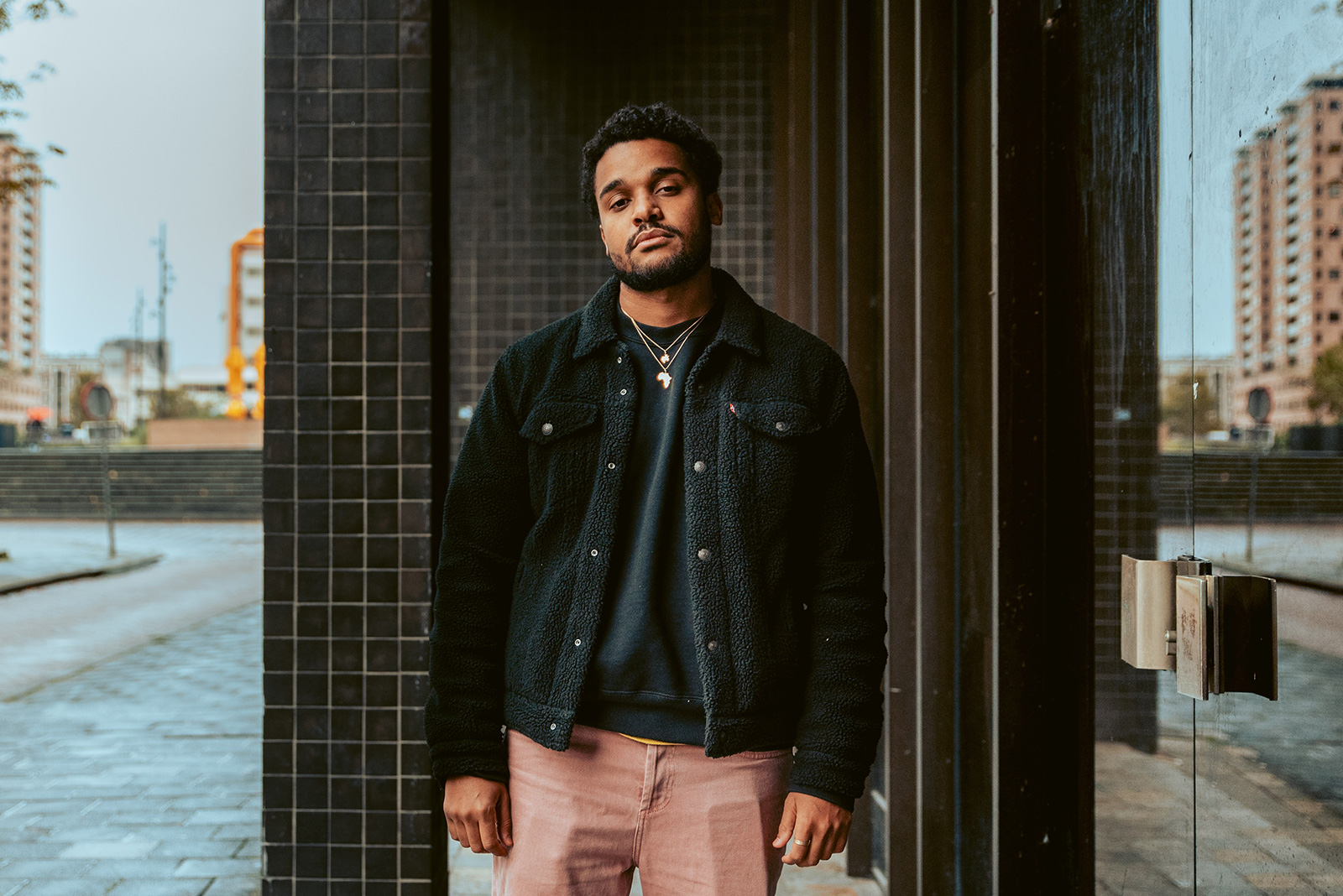 So you do a lot of collaborations. Can you tell us why you find them so important?
It's true. Collaboration wise, I think I always liked the idea of bringing inspirations together and then sounds together. I think it animates the song more when you hear people singing together on a song. I love the journey of making it and the process behind it. In my case I tend to collaborate with other artists, which sometimes are not necessarily on the radar at all, and to me on one hand, it's like, yeah, they're easier to reach out to and to convince maybe, but at the same time, it's also a voice you may have never heard.
Is that what happened when you decided to work with Ayanda on the song "Changed Your Mind"?
Part of me loved her voice as soon as I heard it in the first place. Furthermore, I thought she also had the grain, the tone, and the accent I would be looking for in that song. Also, In my head I was like it's very unfortunate that Ayanda is not releasing her own songs. And maybe it's because she has some personal reasons as to why not. But I felt like "Oh, this is a good opportunity for me to let her step out of her own shell". And that's how it worked out.
What subject matter do you find yourself writing about the most?
I tend to be talking about my relationship with women. That's the truth, but I don't know why, I never asked myself why, but I just find it so relatable and for me it's also very fascinating. I get to like question myself better when I just put it into a story format, it helps me look at it from a different perspective.
And that's what you did with 2403?
Yeah so 2403 was exactly that. It was the perfect self-reflection story for me in the songs, and you know how when you write, you remember it better? When you have to share it to the world, then you really go deep into it like, is this true? Do I believe in this? Is this okay? Is this how I actually feel? Is this how that person could have potentially felt? So, I think it's a good process, even if no one ends up listening to it, it would definitely be worth it.
You're quite the creative. You make your own music, but also started your own clothing brand. Can you tell us something about that?
The brand is called Bibs, and it started out of me always having a desire to have a fashion brand, which kind of descended into me liking particular styles of clothing. The real starting point was that I would wear dungarees when performing. And then I felt like, " I could make this part of my artist persona". I looked at the dungarees in different ways and I was like, "Oh wow, this is like a tool, this is an instrument for me, I use it to do my work". I fleshed out that idea and realized that you know, there's a whole segment of people, quote-unquote creatives that perform arts. And that is a form of work and they do not have a uniform for it. So then, I could turn it into designing uniforms for creatives and that triggered it all. Our brand stands for creating workwear for creatives. The goal is to empower and support creatives with their own wear and in that way, they can feel creative, but also be more creative. The same way you wear a suit to go to work. You feel professional. The aim is to have the clothing make you feel creative because that's the initial sensation I have with Dungarees. And that's how I feel about dungarees still.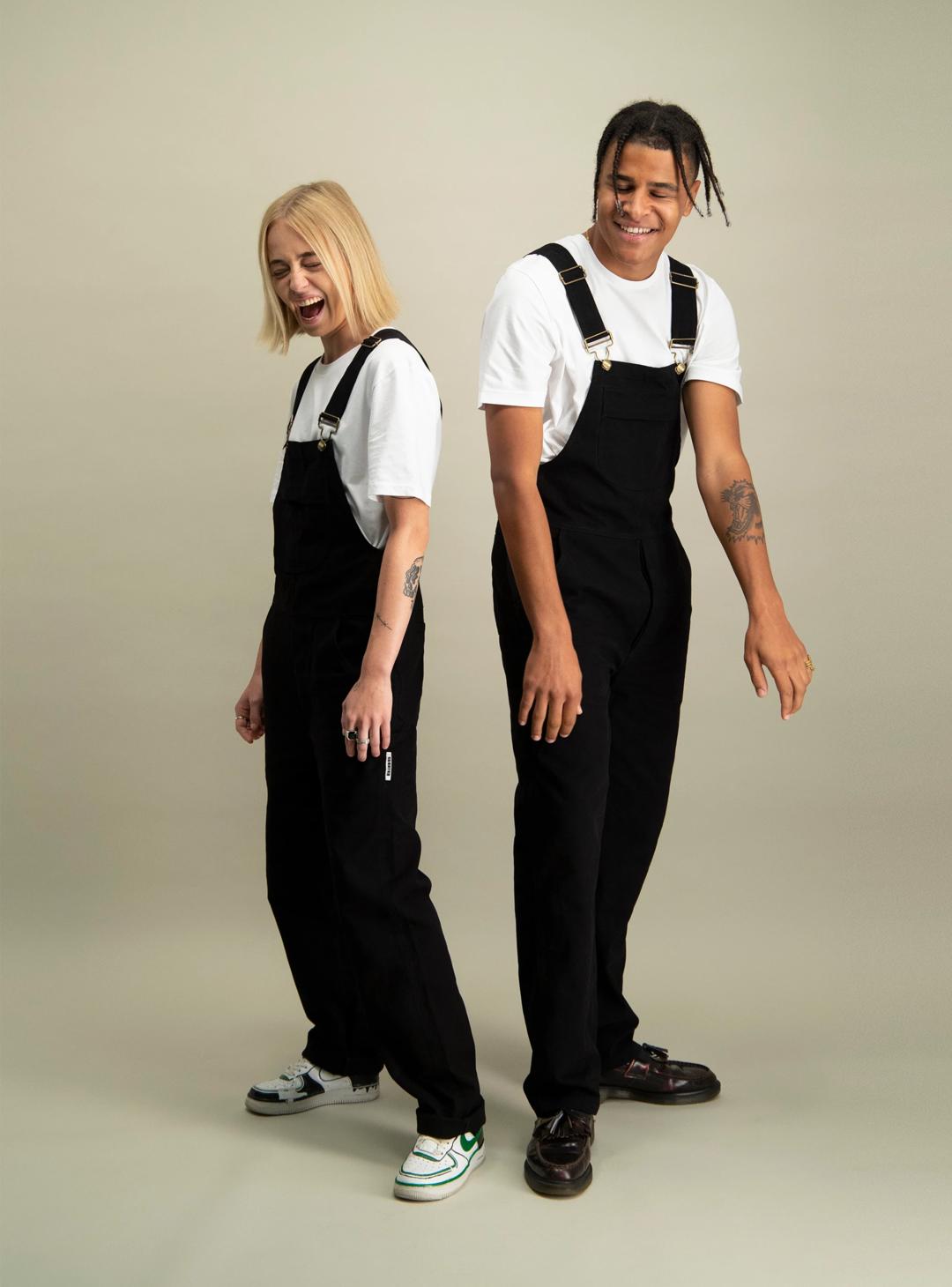 Best advice someone in the industry has given to you?
This one is a difficult one. Maybe because I lack mentorship throughout my own music career and I just didn't seek it enough. I think mentorship, you know, it has to be sought out, so you have to look for it to get it. And I haven't been looking for it and that's maybe a downside of going about it this way. I've realized that from whatever mentorship I could have possibly gotten, I didn't find it insightful enough to remember it. Independent artists, royalties and all, I've done my own work on it. I never got to experience the label world. I only know the independent world and therefore I already own everything for myself. Meaning, I feel like in that regards I try to feed off the people I work with. But it ends up being a continuous learning dialogue with small tips and tricks along the way.
Mentorship is something I should seek now actually, just because obviously you can grow by yourself, but you can grow better if someone above you gives you the ropes. In this case, like with the prize I won, I get to choose who I want to have as a mentor for a master class of two hours. So then there, I can potentially get interesting information, because they would be coming from someone outside of my circle of peers. Not saying that peers can't give good advice, but that it would be coming from a different place, which is more likely to be fruitful.
Speaking of, what did winning the Grote Prijs mean to you?
So, winning to me felt like a form of external validation as in "YES you are an artist"! I mean everybody has the right to call themselves an artist. Like if you feel you are an artist, then you probably are one. That's kind of how the definition is to me. But then you rarely get that external proof, or social proof from others other than your friends saying, "yea you're a rapper, you're a musician". But winning a prize, and one that is actually let's say, looked upon by other artists and having an independent jury, which you do not know or communicate with, choose you, then you have this external validation towards yourself. Like, "Okay, BKK you are a musician, you are an artist, it's not just your friends that think that". It just gives you a lot of motivation, you think "alright this is not me making it up, I could take it seriously or I should be taking it seriously". And before that, you might think stuff like "I'm probably just f*cking around " haha.
Musicians now tend to release singles instead of pushing out an entire album, what is your view on it?
Well my take on it is that the music industry, as it is now, there's no incentive for you to release albums. Why would you? People are exposed to so much music that they don't have time enough to process one of your songs, the chances of them processing your entire album is less likely. Also, I'd say there's less, not saying there isn't, but I'd say this whole "super fandom"  is more scattered now. People like a lot of things because they get to hear a lot of things. They can't allocate their attention to one artist; they attach it to many of them. Artists know that if they want to promote something, they get, I don't even call it a one-shot, they get like a half a shot to convince someone to listen to their song. The only reason for me to release a larger body of work all at once would be me really wanting to tell a story, like for example 2403, I felt like this only makes sense if I send it out altogether.
So what's your strategy like?
I think now it's become very project-based, as in little sprints, and it always triggers my mind like okay, who can I work with now? What do I have to work on now? What kind of genre do I want to be in? I think my current pace is getting to experiment more, because it's hard to be more experimental when you have a whole body of work, like an album where you just go left and right. You can't. And finding the partners that are willing to embark on an album journey where you can, you know, put it all together and it all makes sense and is harmonized, it's hard. Especially when you're not on a professional level, but you're on a semi-professional level. Because then you're in this in-between level. And then you have a limited amount of time where you can work with these people because they all have tight schedules. If you're a full-time musician, I'm guessing it's a lot easier to get time with other artists or other producers because that's their only focus. But when you work with semi-professional people, then they have a lot of other things that come in between. And then it gives you an even lesser chance of making whole bodies of work. So for me right now, I'm just releasing songs. I try to strive towards releasing once every two months. That's kind of the pattern I'm trying to follow. And then I try to up it or adjust it based on how my momentum is.
What places in Rotterdam mean the most to you?
I think Erasmus University means the most to me, for some reason it does. It's probably because the whole meaning of me being here right now started out there, and I still sometimes ride through it when I have to go play football or whatever. And then oddly it still feels like home. I know I can't be like running around there like a student anymore haha, but it still catches my attention or makes me feel some type of way. I also spent a lot of time at Bar, so I'd call Bar the place to be. It's a place where I feel like I've learned something and therefore it's meaningful for me. And I've also learned at Erasmus University. So I guess my best learning experience came from those two.
What artist have you been listening to lately?
I like this guy UK artist named Jordy. He's been a good source of inspiration, but I don't make music like him. It actually just gets my mind off things. I've been going back the last few months over a lot of UK artists. Probably because they're also popping these days, but I've not been listening to any drill. I've just been listening to a few OGs in the UK scene and amongst the young ones who are up and coming, it would be Jordy, but then I'll always also listen to guys like Wretch 32 and Chip. Playing their songs on repeat these days. I get inspired by the flows and the melodies, which I find interesting, but I don't find it fitting for my music. I just get a good kick of energy out of it.
Best gig ever?
I'd say the best gig I've had so far in terms of everything coming together, was the one I had at Bird for the Grote Prijs van Rotterdam. I finally felt like the venue matched the level of what I was trying to create. Also, they could execute what I needed sound-wise. When you start making music and get to perform, you tend to get into so many whack settings in terms of equipment, where what they have to offer for the artists to perform is very minimal. Sometimes it's just a mic and a speaker. Therefore, there is like this domino effect where everything just keeps going wrong and it doesn't match the expectations. Whereas Bird, I felt like it was a step higher, and they have experience with performing artists. I could get a proper soundcheck, I could hear my voice, I could do so much more, and it helps you perform better.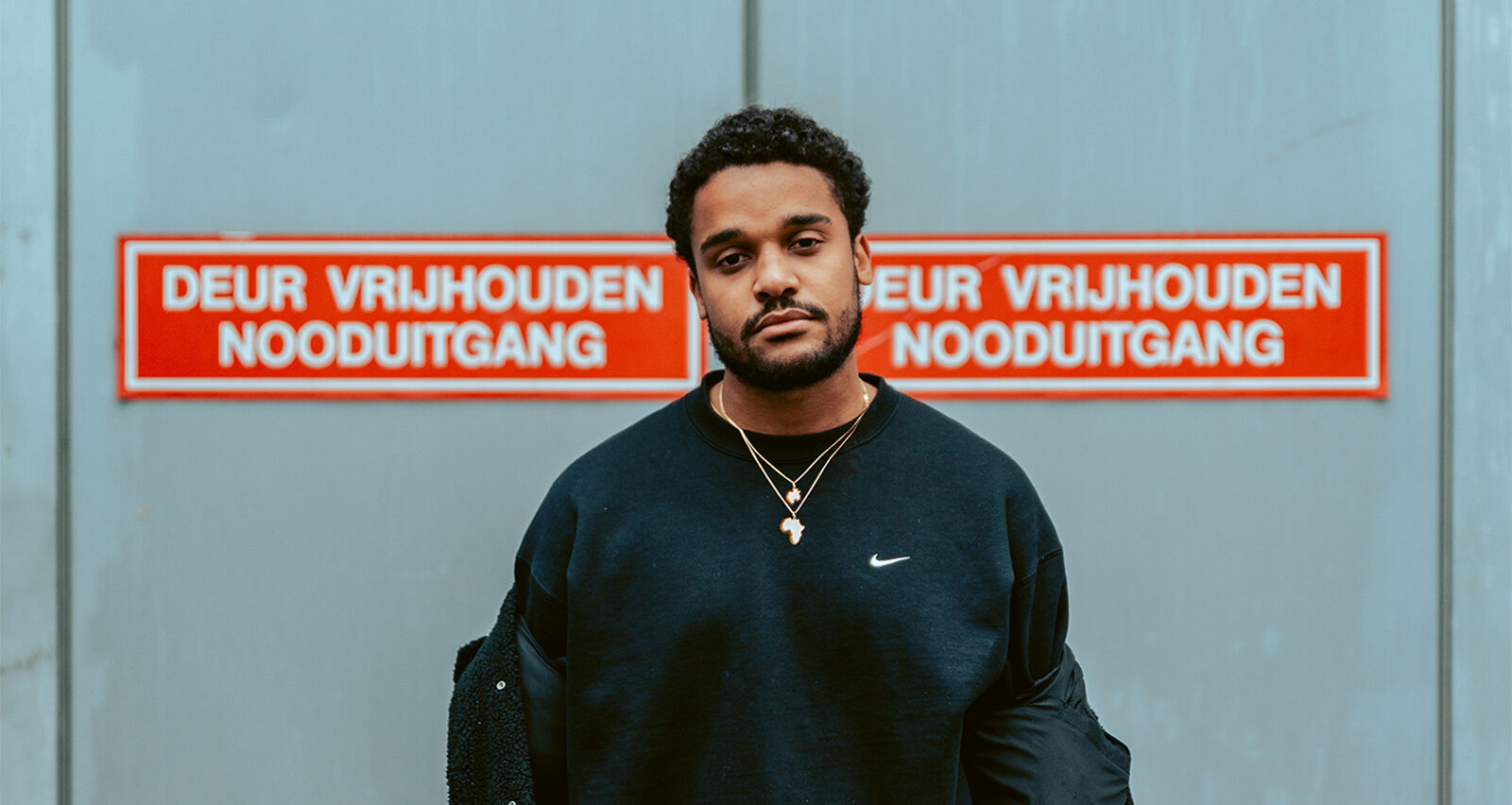 What song or project are you most proud?
So to this day I love December 23rd, that's my favorite song. I feel like the way we've done it at the Grote Prijs was also really good. With the band it sounded completely different, but still just as good. And then the EP 2403 is I'd say,  the most complete body of work I've ever made. So, it's me not just releasing a song, it's me making a story and then building it towards more than just a few songs put together but making it a whole concept. And then thinking about the other dimensions to it by myself, and reflecting on how all the dots connect because that kind of depth I tend not to go into with all the other projects.
You released a song just last week, congratulations! Can you tell us the story behind the release?
Yes, I did! The story behind "Come to Me" is that of a woman which I admire. The song is rather descriptive and tells the story of an ambitious and persevering woman. She strives to pursue her dreams and is reminded by my voice to keep pushing and that despite the bumps along her way, she can find comfort and reassurance through my voice.