YB Talks: Fabz Pi
01-10-2020
• Interview, Music
Met onze interview serie YB Talks schijnen we ons licht op getalenteerde jonge creatieven, muzikanten en ondernemers die naar ons idee het verschil maken in deze rare tijden. Talent waarvan de wereld het bestaan moet weten, met verhalen waarvan we hopen dat ze jullie inspireren. Dit keer interviewden we Fabz Pi. We spraken met Fabz over zijn carrière-switch van prof voetballer naar muzikant, verhuizen van Ethiopië naar Nederland en hoe hij bouwt aan zijn eigen artistieke universum, waarmee hij de wereld tot een betere plek wilt maken. Foto's door Floor Besuijen. Interview door Natascha Sommerhalter.
Hey Fabz, who are you and what do you do?
My name is Fabio aka Fabz Pi, my artist name. I'm half Italian, half Ethiopian and grew up in Ethiopia. I live in Rotterdam now and make music.
I read that you moved to the Netherlands from Ethiopia because you wanted to pursue a professional soccer career but then got injured. Is that when you started making music, or did you already know it was a skill you had?
No, I had no idea, it all started way later. When I made the decision to really follow music fully I kind of dropped everything I was in. I was quite young when I had my first injury, and then four knee injuries in the next five years. I literally lost five years. Mentally I was fucked up. That was horrible because it takes a lot to recover and come back, and then you do, and it happens again. I moved here, I left everything for this big dream, so I was kind of lost. You then kind of realize okay, this is not going to work out and you have to accept it. So I tried other things, I went to school; but was just in a negative space in general.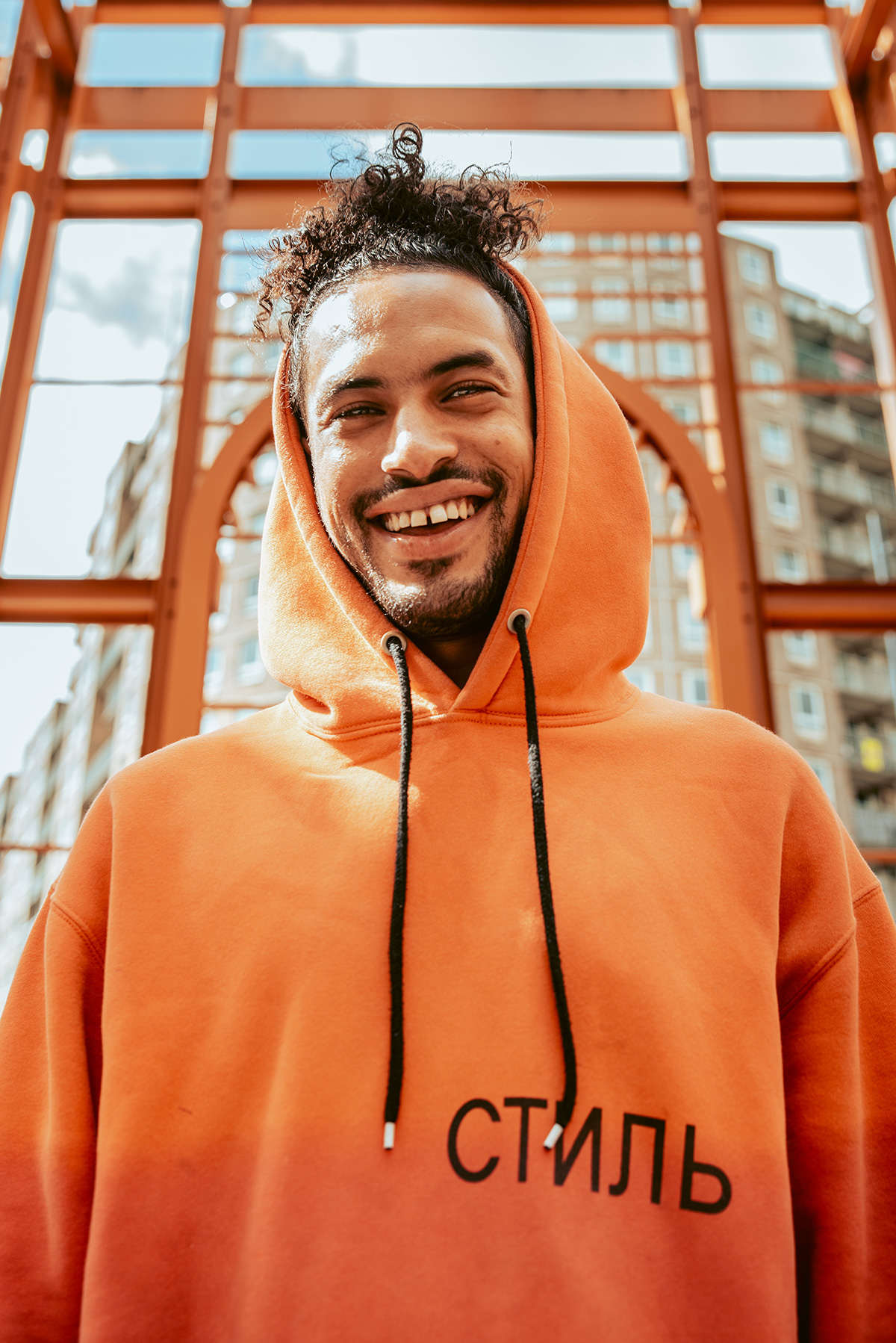 Can you tell us more about your journey of becoming an artist?
Well, I was around friends who always made music, so sometimes we'd just be freestyling, and I was pretty okay at it. And then I started writing when I was depressed. It was more just for myself, and sometimes I'd write verses. At some point I realized that I love doing this and started getting pretty good at it. And for me it was more of like a higher purpose thing. It was actually during a mushroom trip that I had this vision of having to actually drop everything and do music.
A few months later, that's what I did. I was actually doing football coach training at the club, pretty much on track to be a football trainer after looking around to see, okay, what do I do in life? But I realized I was living like a double life. I was training but then there was the music and my vision of life. I wanted to have a certain freedom in life. And I mean, coaching, you still have to put on a uniform. I thought damn, it's now or never. I had faith in this vision, dream, and feelings and just went for it. I actually got declined at the schools I applied for including the Albeda College & Herman Brood. I got to the last round and they declined me. But I just kept going because I believed in it. It was never easy, I mean, I had friends around me who I always showed my lyrics to and they weren't really supportive. And then I started getting support from people I didn't know. And that just gave me a boost.
I'm always curious when it comes to feedback in the world of music. Do you share your work, and how do you make sure you get honest feedback?
Well to be honest, my manager who is also a friend gets pissed at me because I'm not sending him the songs I make. I used to want to share everything. I wanted to get this positive reaction from someone. But now I don't really share. I also prefer to show someone my work if I'm there with them, and I can see their reaction instead of sending a song through WhatsApp, and you only get a message back. So if they're listening, I look at how they react physically and that's worth more to me than sending it around. I'm also in a collective called Purple Planet, with people who also make music, who I really respect. I am open to sharing it with them while being physically present because it's important for me that I respect your opinion and trust you. But a listener, anybody, they are important, but it's like art, I mean one person can look at something and love it and the other person might not even understand what it is. So at the end of the day, as long as I'm happy, that's the most important.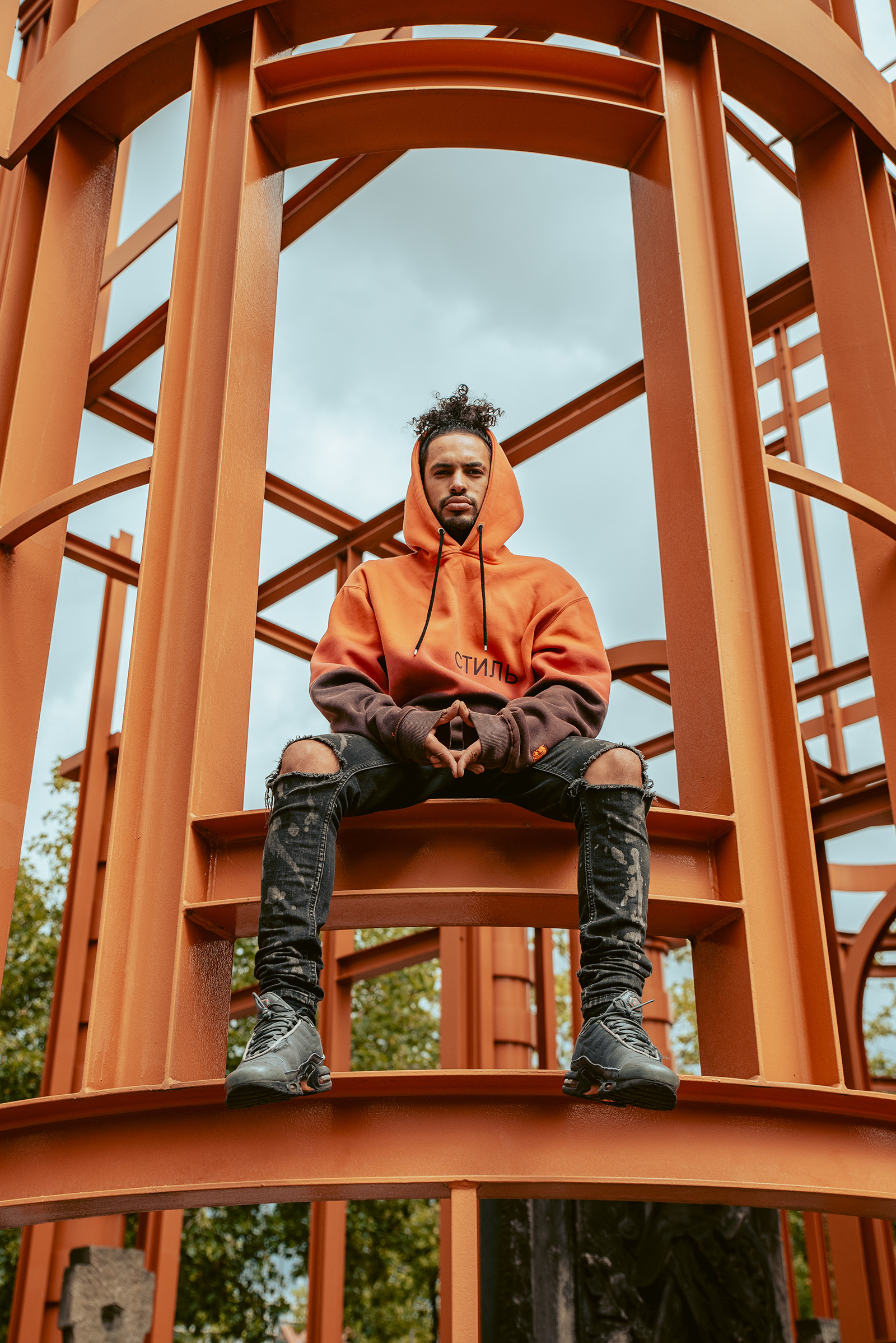 In terms of finding this creative scene that you're in now, how did that process go?
Oh yea well Josimar, you had an interview with him. He was at the school I had auditioned to and met him on the audition day. I already knew who he was but then we walked back together, had a talk and was telling him "yo we're gonna go on worldwide tours"! He was already in the school and I got declined, so that was the start. And then I started going to spoken word events. My friend YMP had all these spoken word events and I had lyrical stuff. So I could do it at these events without music, just acapella. Those were my first podiums. And then online, I used the power of like Facebook and Instagram, and literally just hitting up people.
What has your experience of the music industry in the Netherlands been like?
Well I do music in English. There's a lot of media attention and a movement in the Dutch hip hop scene, if you do Dutch. But the English one there's not as much media focus on. But we do have Elijah Waters, Cero or Rimon, for example. Or the talented guys from our collective, Youp, On The Fence, Josimar, Tommy Surf, Capri, Stay Cozy & Cloudy. And then there is Sevdaliza which to me is one of the greatest around. But here it's not like she's famous. There isn't that much attention to English speaking artists from Holland because they'd rather listen to English, UK, or American artists. So, I'm not competing against people here, we're competing against the international musicians and that makes it a lot harder to breakthrough. But I just think it's a matter of time. People will realize that there's a lot of very good, international stars coming out of here.
Favorite spots in the city of Rotterdam?
M3 studio & Sterk Atleet studio, making music is my therapy! I also love walking around the city, I get a lot of inspiration from the movement and forward-thinking energy of Rotterdam. Kralingse Bos is a nice spot to let go and immerse yourself in nature which I miss. Other than that, when I am out, you can mostly catch me on Witte de Wit. I've had a lot of meetings at KING KONG, a very cozy hostel.
How would you describe your sound?
Well the music that's out is one thing and what I am working on is another. I have a lot of songs that I'm working on right now that have different sounds. But like the base of what is out, I'd call it Spiritual Trap, definitely trap. But yeah, I don't really like to put it in a box. I like to use paintings as a metaphor. When a painter does something half of you don't know what he did. No one asks him what kind of style are you doing? No, you just observe it and whatever you feel from me, you feel. Like I did some songs inspired by indie rock, Pink Floyd. And then I have some Afro vibes. More like Santi, Burna boy or Rema. And then there's the trappy vibes, for example I love the sound and vision of Sean Leon from Toronto. So trap with a little bit of my world in it. So then at the end of the day it's still a little different.
Which of your songs has meant the most to you?
That's like when you ask a mother who's your favorite child. It's kind of hard, but it would have to be Feel Alive produced by Loesoe, who now has done productions for Lil Uzi Vert. It's also the biggest song I have which is why I didn't want to mention it at first, but I just knew it, I knew it would do well before it even came out. The song was my level up, like alright this is serious! The chorus goes " Yea the Drugs made me feel alive. Lost inside the sauce it was all a lie, now I know I'll never die". This has two perspectives, the dark one where I was using a substance to numb things and the second way to look at it in a more positive perspective is my connection with Magic Mushrooms which helped me through depression. So, the "Drugs" literally made me feel alive in a good way and I don't even like to call them drugs but that's another discussion haha. The sound was very approachable, but I still managed to lace some wisdom and real-life shit in there.
If I had to say another one, it would be Tired produced by M3. I actually did that when the Black Lives Matter protest started. It was the weekend of the protests, and we had a session planned with M3 and I was like, "you know what we need to say something about this". I was just making music that day without really having a specific direction but then I actually tried to channel the energy I was feeling from the whole situation. And we did that in literally an hour and a half and the song was done.
So, you are Ethiopian and Italian, how does your heritage play a role in the music that you make?
So with the Ethiopian sound, I definitely want to do it, but I want to make it authentic and not force it here with people who are not maybe doing it or are into it. I'd rather just be in Ethiopia and co-create with artists there and with guys here and then merge those talents. The Italian side, I want to rap in Italian because I think that's the future of music as well, that it is in different languages. I can do French, a little Dutch you know, but that's more the future path. I definitely want to create a base of what I do in one language first. I'm working on my craft and don't want to rush anything.
How do keep yourself grounded and healthy in order to create?
I try to meditate when I can and I've been doing intermittent fasting, eating less and better-quality food. I also believe in semen retention and learning how to do that. I think that helps give you more energy. I think for creativity, sexual energy is very powerful, so if you always waste it, it kind of depletes the creativity. I'm not saying don't have sex but learn how to retain as a man. That's one message I really want to put out to men. I feel like it heals me. I haven't been sick in two, three years. Like literally not even a flu, and I don't always live the healthy life!
I also believe that as a creative, you need to be a little wavy. Like if you try to organize everything, that's also going to stop the creative. And then there's a thin line between crazy and genius. And some people lose themselves in it. But look at the great stuff that has been created by Amy Winehouse or people like Basquiat. There's a bunch of artists that were doing all these drugs, having a crazy life, but they were free. When everything is organized, planned, everything's detailed, you can't create! You need a good balance though because then again if you're too wavy, you're not going to do anything. You're going to go down a dark path, ending up being high every night or something. You have to have a mix between organized and improvisation or spontaneity because I believe to be creative, you need to live, you need to have experienced good or bad. And I feel like a lot of people can create from bad experiences. A lot of great art has been made by horrible, depressing experiences. But by letting it out, it creates good art.
What is the most difficult thing about being an artist?
Fighting your own self, your doubts and all that other shit that goes on in your head. And I guess balancing between creating and earning money. I lived homeless last year for like eight months. I went all in and I chose to not live at a home, but just be everywhere, especially the studios. I didn't like telling people I was homeless but living a Nomad life! I also stopped working at post NL and didn't have a job or a home for months. That was wild. But I never grew so fast and never had so much to say, because I lived a certain way. It was more of the spiritual journey as well, of having a certain freedom. It was hard sometimes, but I chose it, and I was okay.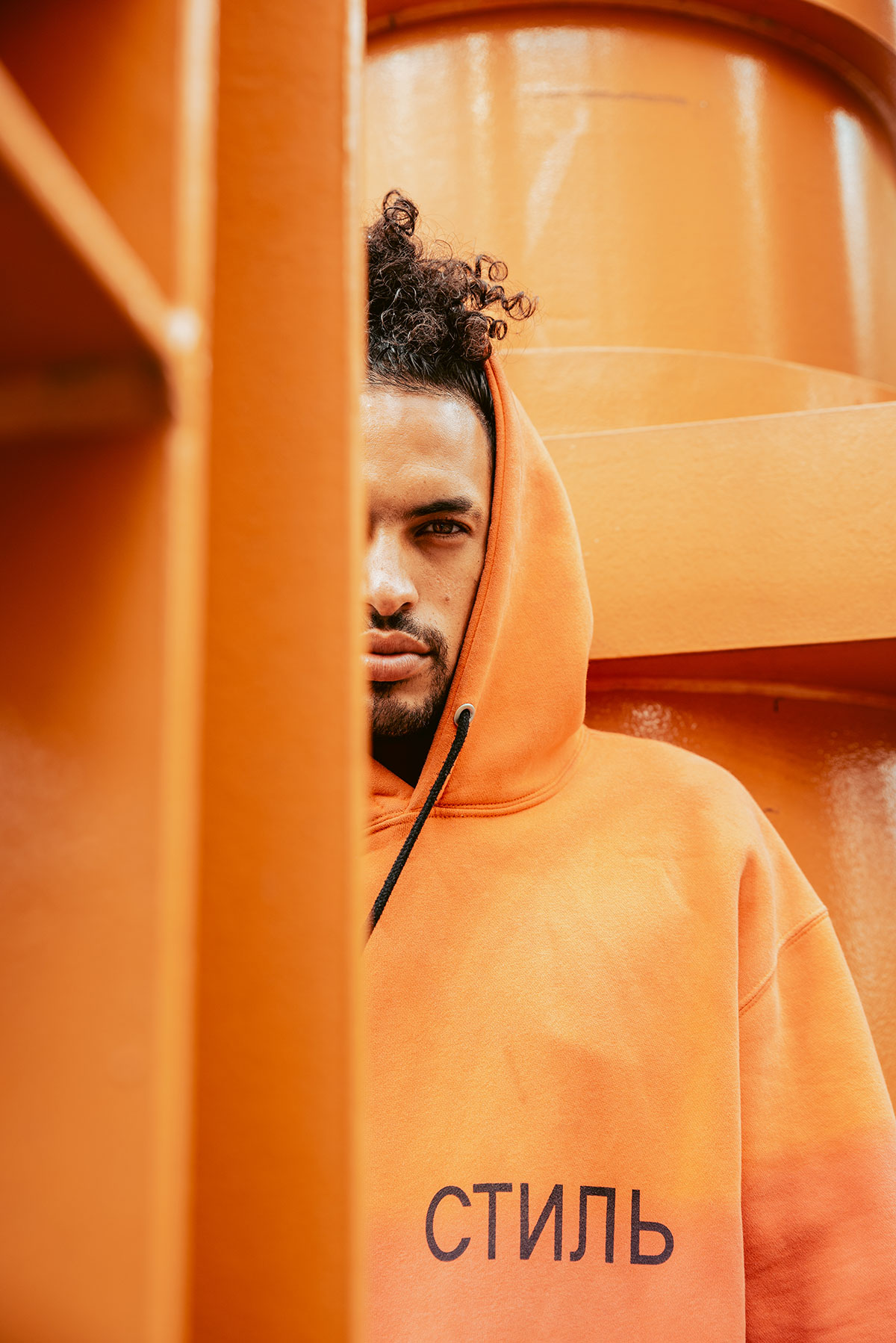 What musicians have inspired you the most?
That's a hard question! I get a lot of inspiration coming to me musically and it always changes. But right now, if I had to pick three, I'd say Sevdaliza. I think she's my favorite, I mean her music is out of this world. I'm talking about multiverses, and with her I feel multidimensional. Her music is like in between worlds. And she comes from Rotterdam, I met her before she became big and saw that process, which was personally important for me. I also love Rema from Nigeria. I think he's one of the new age artists. He's from Africa, and does like American trap but then he also does his Afro stuff, like super on point. He got his vibe, but he's an international artist in the sense that he can easily flip to what the Americans are doing, but Americans can't necessarily flip back that easy to African vibes, you know? Then I'd say Don Toliver, he's up and coming and he's fucking hard. He has a really unique voice and is the feature guy to go to. I predict he's going to have a huge year. He's going to blow up!
Can you tell us about the universe you've created around the artist that you are?
Art imitates life or the other way around so I'm trying to express what I see in my mind through art. I try to break down my own belief systems and paradigms constantly, so I keep evolving. For example I used to believe in a Universe and everything that exists is in this universe, which is pretty big. That has changed now to an infinite amount of universes. So I believe in a multiverse, for now. Or how the definition of past lives changed for me, your past life could be a life as another type of being 100,000,000 years in the future and not per se on earth and in the "past". Time is relative to where you are and what you are as a living entity. So my art is also a reflection of what is going on inside my head. It's an escape to a magical world where the possibilities are infinite and to me this life is already that.
What is interesting is how vocal you are about female sexuality. What is it that you believe, and what message are you trying to put out into the world?
Female sexuality, but also sexuality in general. I think the core message would be that it's more powerful than what people think. Having sex, cool it's nice it can be amazing, but I think it can be much more than that. It can be used to heal, to manifest many things and I feel like people don't know that. I think it is a very dangerous thing if you for example have multiple sex partners continuously because you're just yearning to connect with someone. You can pass on energy through sex and become completely open in different ways. Not just physically but also spiritually and mentally. And I also feel like males have gotten a completely wrong message from the world on what a male orgasm even is. Porn and things like that have created a certain network of how people see sex and what it is supposed to be. And it's not real. I think the base of the message would be that sexual energy is very powerful. Learn about it and use it correctly.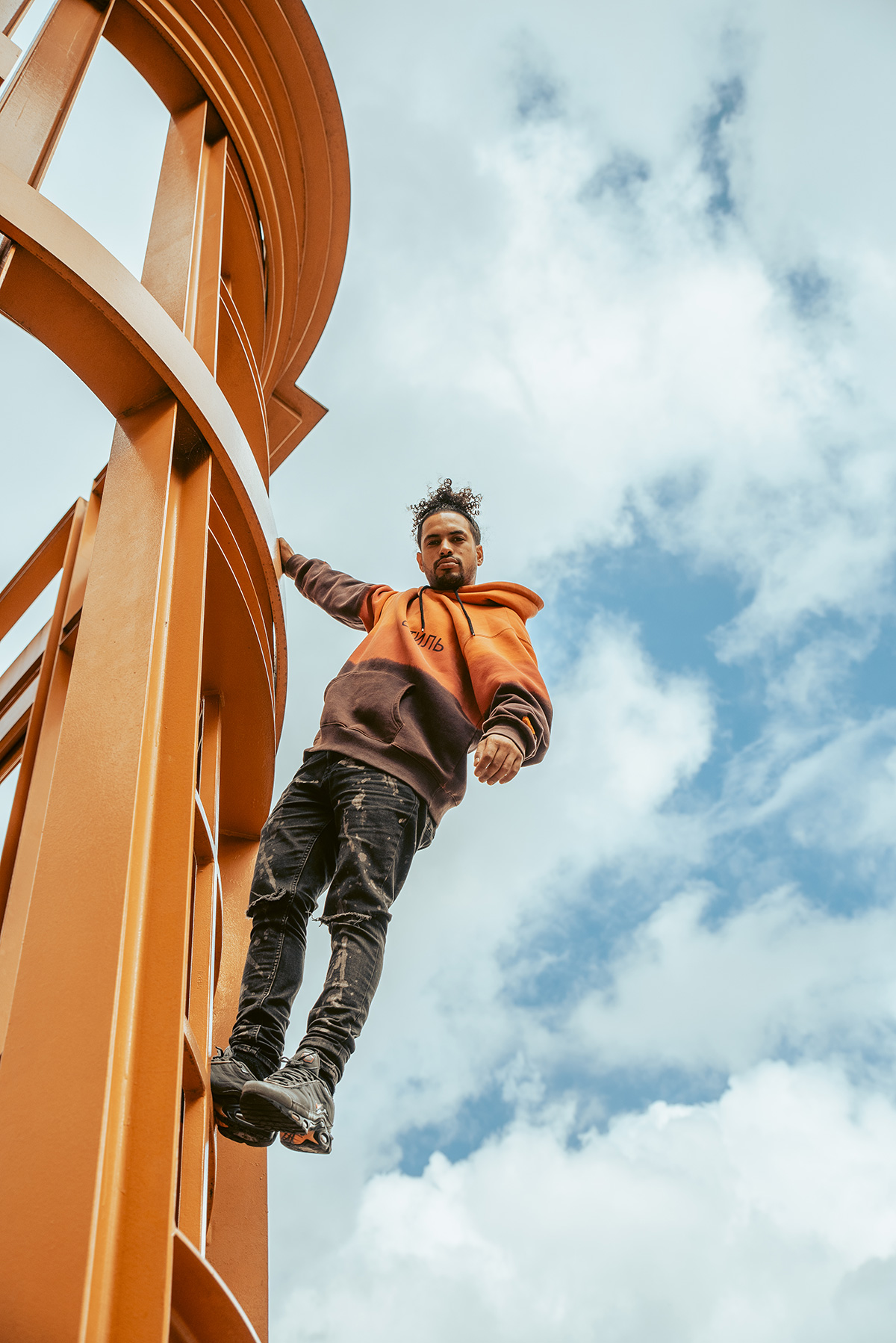 Do you think your music can act as a vehicle to open up a discourse about women empowerment?
Yeah, definitely, at the end of the day, this whole music comes from the purpose within me. I asked, how do I help in this world? And that was what I wanted. Music was my tool to do that. So, whether it's in the music itself or around it, it gives me a platform and music is very powerful. It can reach people in a way that you can't reach normally. But I don't really make it a theme. Let's just say I don't use the word bitch to describe a women per se; a man could be a bitch for example. Mostly in rap it is used to define a woman. I don't do that, I call them queens, goddesses and try to empower them in that way. I also grew up around very strong women, and my mother and sister are one of my biggest inspirations ever. Shout out to my dad who showed me how not to be a toxic masculine male but embrace the softer side. I strongly believe the world would be at a better place if there were more women in power and it's time to shift the tide.
What social impact would you like your music to have?
To unite people of all colors & genders and to set a trail for other people to look within and love themselves. As well as to learn about the world which is not necessarily taught in school. I would love to inspire the next generation to keep the ball of change rolling into an avalanche of love.
Lastly, any big plans for the rest of 2020?
Oh yeah. We have Life Of Pi Multiverse: PORTAL II coming with my friend YOUP who produced Big Shaq's last single. And Portal III with M3 will be coming early 2021. The first single and video came out two nights ago and it features my bro On The Fence. The video was made by Thirteen, a visual madman I found on Instagram. He lives in the UK and we were discussing ideas through zoom and he drove to my place with his GF and spent 4 days with me to shoot this video. We connected instantly and he is definitely someone to keep your eyes on. The video is based on the mysterious planet NiBiRU which supposedly is the home of the ANNUNAKI. Life Of Pi Multiverse: PORTAL series is a peek in different Universes within the Life Of Pi Multiverse.