YB Talks: Fat Crayon Creative
15-01-2021
• Fashion, Interview, Lifestyle
Met onze interview serie YB Talks schijnen we ons licht op getalenteerde jonge creatieven, muzikanten en ondernemers die naar ons idee het verschil maken. Jong talent waarvan de wereld het bestaan moet weten, met verhalen waarvan we hopen dat ze jullie inspireren. Dit keer spraken we met Max Bijsterbosch en Jari Nuno, oprichters van het Rotterdamse Fat Crayon Creative. We spraken de mannen over hun partnership, waar Fat Crayon voor staat en wat er voor nodig is om deze tijden een eigen merk te runnen. Interview door Natascha Sommerhalter. Fotografie door Floor Besuijen.
Hey guys! Who do we have the honor of speaking with today?
Max: I'm Max, 22 years old. I work full-time for Patta Amsterdam and I'm a co-owner of Fat Crayon.
Jari: I'm Jari, and I am 23 years old. I work as a freelance photographer and I'm also a co-owner of Fat Crayon.
We're here to discuss something very exciting, your own brand! How did this partnership begin?
Max: It was very organic! You Jari, had an expo at the library and I saw it on Instagram. We had some mutual connections and I thought it was dope, so I popped over and we had a quick convo. I saw him again at like a podcast event we both went to, another quick convo, and then we started playing football together behind Witte de With. That's when the idea for the jersey came about. After that, we thought maybe we should continue doing this with some other things and really making it something substantial.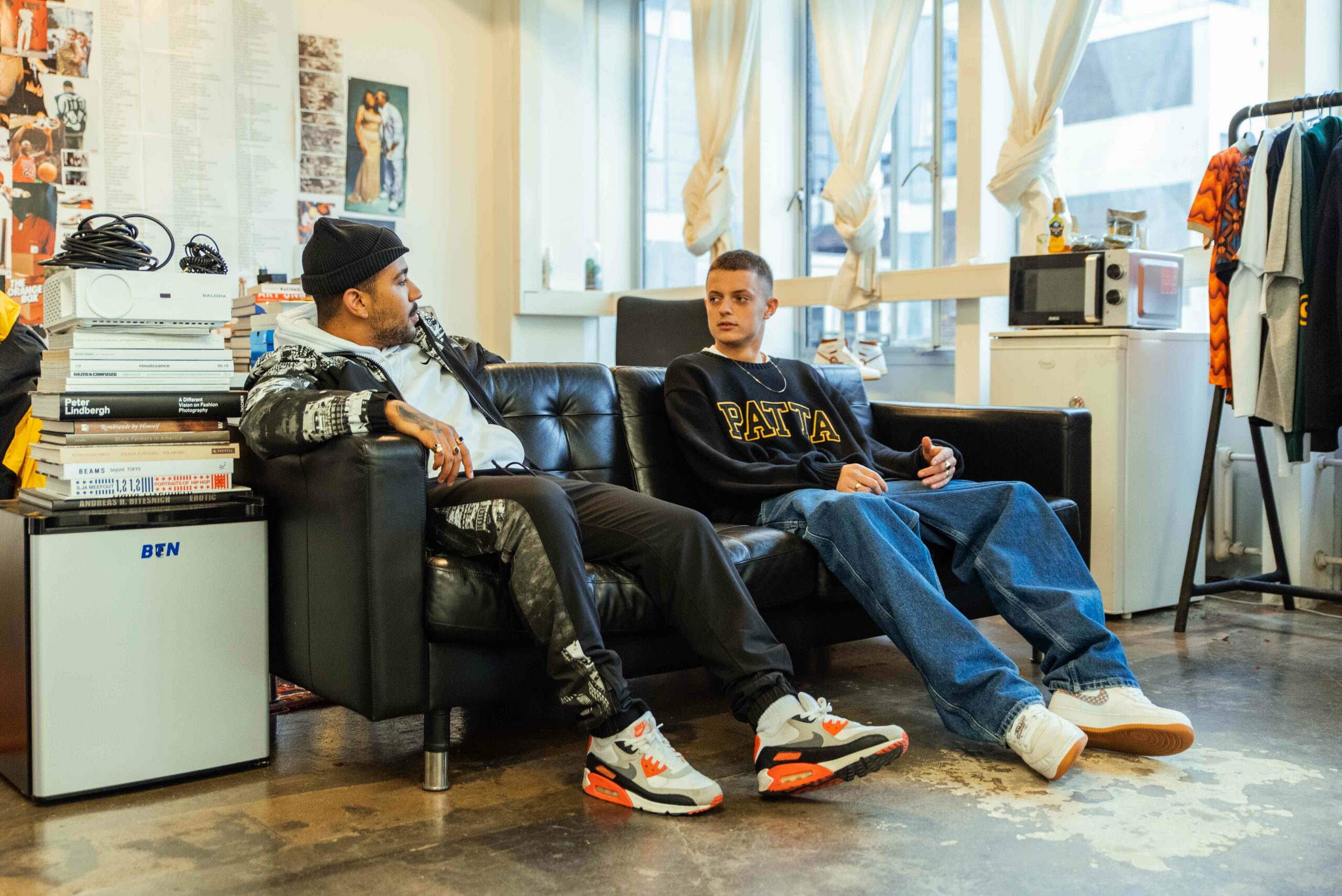 That's crazy, I assumed you guys had known each other for quite a while now.
Max: We've only known each other for a year, since December 2019.
Jari: Yea it was just a really good match, and we were on the same frequency. There are a lot of things that we like, that are in common and we complement each other quite well.
Max: I also think that if things like these don't shape quickly, then it's not meant to be, you know. If I and another guy, who have known each other for four years, and have been talking about starting a brand for three years, and we haven't done it since, it's a sign. With Jari and I, we did it before we even fully talked about what it all meant. We just went for it. That was the key!
Can you each tell me a little bit about your backgrounds?
Jari: I'm born in Rotterdam, but my parents come from Cape Verde, so I'm Cape Verdean. What I've been doing in this life is playing soccer, going to school, and always having a slight interest in sneakers, which developed into an interest in fashion. I started working at sneaker stores through internships, and from there I moved into retail. I actually did my internship at Banlieue in marketing, and did some photography too. I was combining both during the internship and then they said if you want to, you can stay because you are quite a good component of the team. And with photography, it started with school as a side project and then developed into a professional career.
Max: I was actually born in the Hague, and then I moved to a really small town close to Rotterdam with my parents. At the age of like 15 or 16, I started working at a denim retail store in Utrecht. Before that, I already started to really develop my own taste in music, fashion, and shoes, and I think it really started taking shape when I moved into retail. You are constantly surrounded by all those forms of art, and you get to know how everything works behind the scenes. So I worked at the denim store for four years. Later, I had to do an internship for school, so I approached Patta, which by the way I had applied to multiple times before, even when I didn't need an internship. I just think it's one of the dopest brands in the world, to be honest. So, I was actually going to do an internship in Germany, for another big brand, but then randomly on a Sunday, I got an email from Patta inviting me for an interview the next day. I got there on Monday and it immediately worked out. I did an internship for five months in finance there, which really taught me a lot more than school ever could. While doing all this finance work, you know, I also had this sales background, so I was giving hints that I would like to do something with that. And then I did another shorter internship in sales because they believed in me, and then they offered me a contract. So that was really really great. Now, we've started Fat Crayon Creative and we're going in full force!
So basically, you both never went to school for design or fashion?
Max: Maybe it's a bit of a bold statement, but I think, some of that stuff you don't need school for. I think what you need is a no concession mentality, where you make what you want to make, do what you want to do, and don't let things distract you like pricing and stuff. I think that's the best mentality you can have with everything. And if you have a taste, that people share, then it works.
What inspired Fat Crayon Creative?
Max: I was listening to "Guess Who's Back" by Rakim, and there was a certain verse that contained the words "Fat Crayons" and I thought that's a dope word combination. We thought of how when you color something really thick and big, it stays, and so you leave something behind. So, we turned it into a logo and that's a bit of the inspiration behind the brand; doing something that leaves a mark. There's so much apparel in the world that I don't think you have the right to just do anything anymore, it has to have meaning. And it has to contribute positively to the local community. That's the essence of it. We each have our own taste, and there's a lot in common, and then we just try to make clothes that we love. Like if we won't wear them, then we won't make it.
What topics in life do you wish to address through your clothing? You mentioned that you want it to be impactful for the community.
Jari: I think we're reflecting what our community stands for. We want to just show people, our community, and everyone that's part of the community, that we stand together. Topics I want to address are our different cultures, the strong connection everyone has with each other, and the love for music, and photography. I'd like to show everyone that they should believe in themselves and put the work in. Lastly, I'd like for us to inspire the youth and pass down some knowledge!
Max: I think a big part of our community lacks representation in this industry, but also in this environment in general. It's not about me, it's not about him, it's about all of us. And especially with the jerseys we created, that really reflected what we are about. The story behind it is that it was truly something for the community. Other topics, yeah, of course, we are very strongly opinionated about a lot of stuff going on, and we have been talking about doing things that address those topics. But it first needs to have backing, it needs to make sense. We can't just start shouting about certain issues. Sometimes it's my style, but not for this brand. So, if we make a statement, we want it to be clear. I also think it's important that you have an opinion, like there's a lot of politics going on in fashion, where some brands refrain from saying certain things because then some people won't like them. No, we wouldn't do it like that. We're planning on doing more creations that communicate what we think, but it's more difficult than you would imagine. Making something dope is easy but making something dope and meaningful is quite a task. And some topics they come and go, and making apparel isn't quick, especially if you're only two and you want to make something of a certain quality, it takes a bit more time. So we're working on it, but it's definitely been part of the DNA of the brand from the start.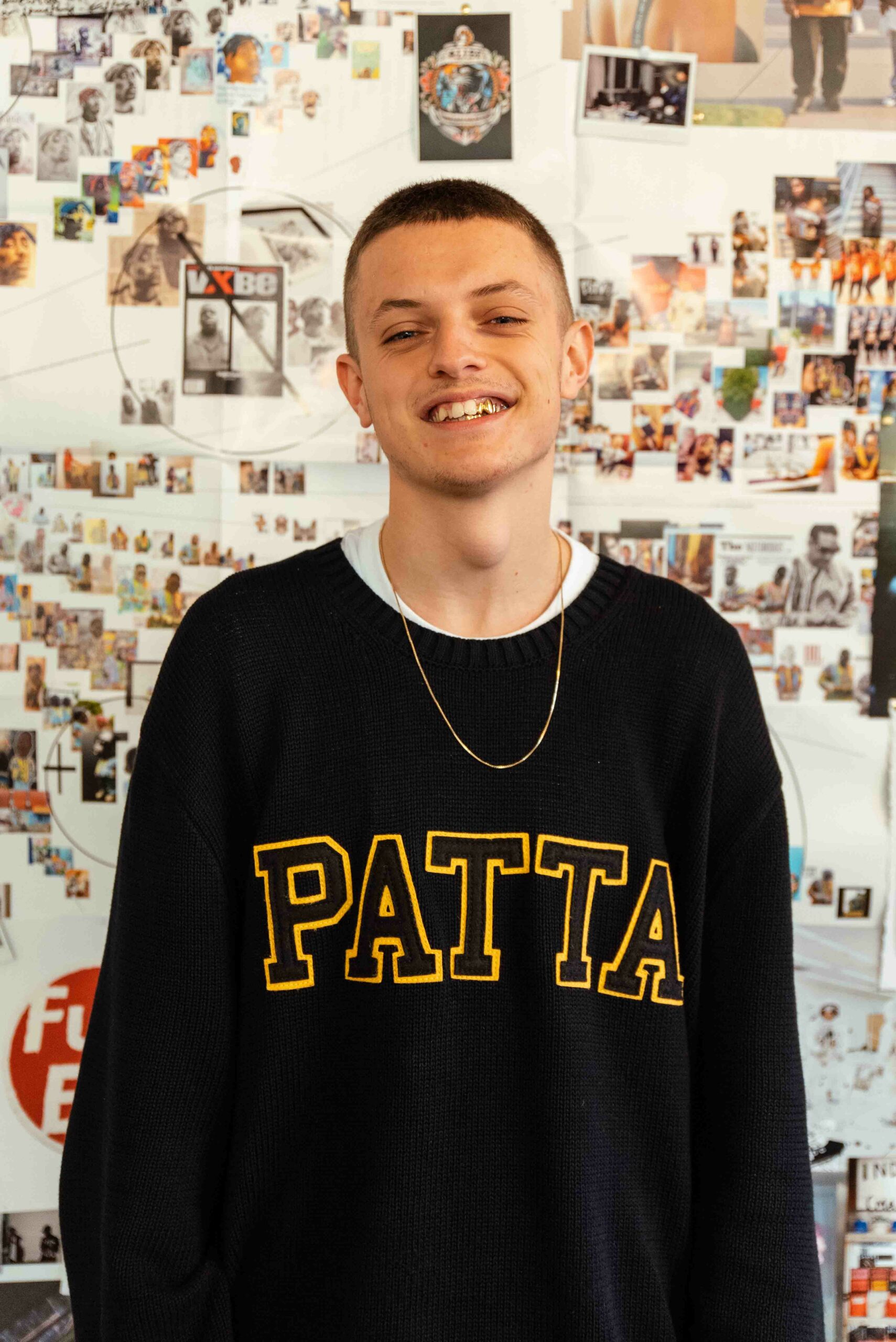 Being an entrepreneur during our time is quite interesting because you have so many resources, like the power of social media. Can you maybe tell us how your journey of being an entrepreneur has been?
Jari: For me, it's not necessarily something new because I'm a photographer as well. So, I'm used to being the owner of something and moving in and through the scene and social networks. But right now, we're just doing it on another level, or playing field. And we both work or have worked at companies that are really busy with socials and we get the knowledge and the know-how from the company. That makes it a little bit easier for us to move because we have experience with companies that have high standards, which we also immediately have in our brand.
Max: I think the switch was very organic because I've also mostly been working for myself for a long time, doing freelance and marketing work for big brands. And what he's saying is that we come from a warm bath, you know, and both the brands we work and worked for, support their employees to do their own projects. So, if we want to understand something, we can basically ask the best, and that's really been helpful throughout these past couple of months because we wanted to start off strong and not make certain mistakes. If we didn't have certain help, I think we would've made some more mistakes. But the whole entrepreneur thing, the same as him, we've been doing that. So now it's just a bit more intense, but that's cool.
What has been the most difficult aspect of starting this brand?
Jari: I don't necessarily think there was a difficult aspect. Maybe because we moved from idea to sampling within two weeks. Like two weeks before, I didn't even know I was going to start this. Of course, you have to sort out the financial aspect, there is a certain responsibility that comes with that. I wouldn't say difficult, maybe it's yet to come. To be honest, we've both had the most fun in our lives every day. That's most important.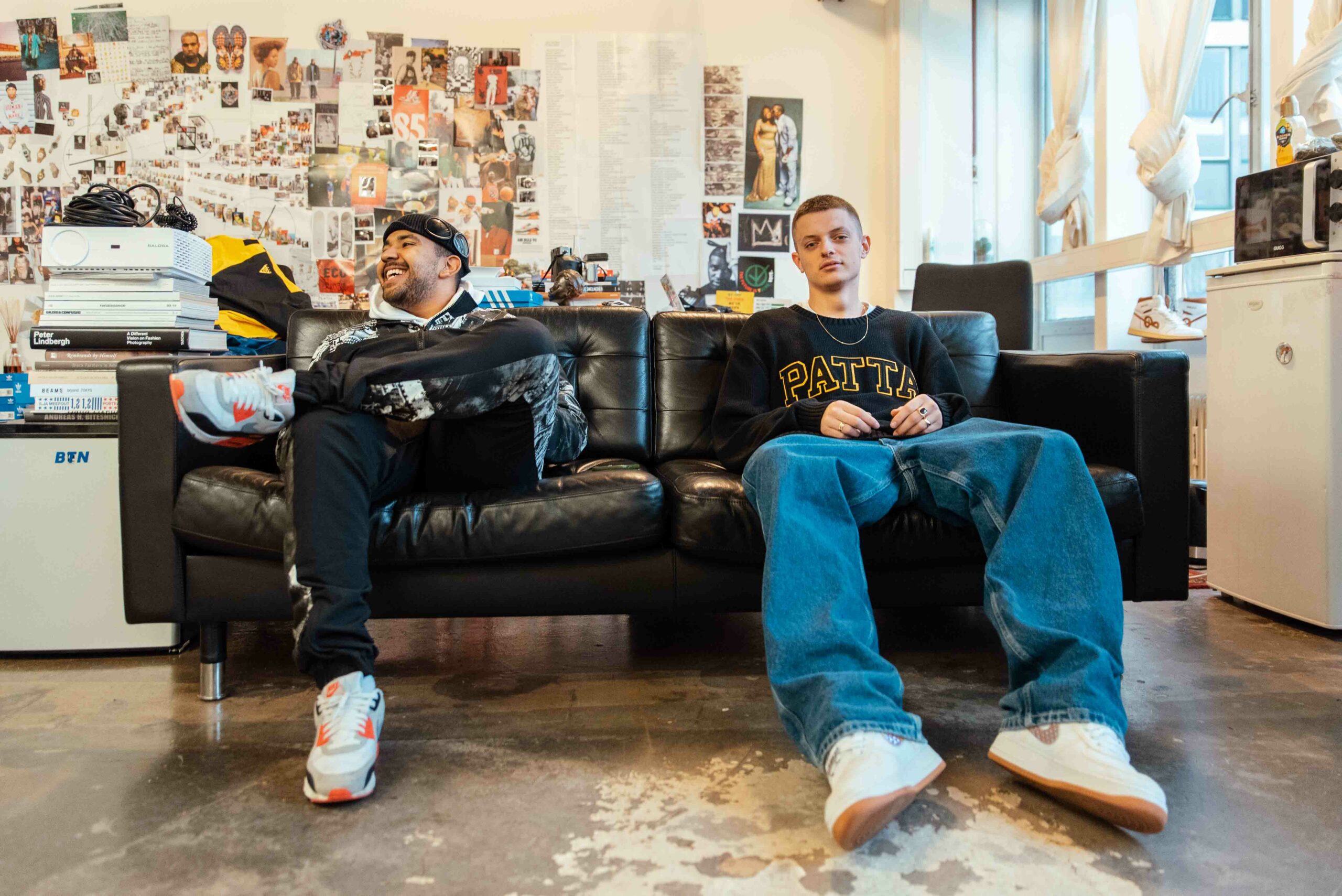 What is your plan for growing outside of Rotterdam? It's always interesting because there are some really amazing brands out there, but they don't really make it out of the city they are from.
Max: Big topic! I think it's already happening to be honest. We have a lot of international friends, and that really showed when we released the jersey. We had people from New York ordering six, then there's Finland; we have a really cool connect in Finland. We also have support in France and London. I think it's because of both our jobs, we are in a kind of environment where we get to meet a ton of people and make friends.
We really do want to break certain barriers. Like what you're saying is correct, a brand can be really dope but it can sometimes stay in one environment because of certain things. I think sometimes it has to do with it being difficult if you're with two and you really want to break those barriers, you know, that's really difficult and especially if you don't have a name for yourself yet. I think that can be really really tough, but we try to do it by offering something different. We also try to push the brand by having a really nice website from the start or our socials having great content. We also don't really believe in big influencer marketing, where we give a famous guy this, and then he does that. That's not really what we believe in. It has to grow organically and only in that way is it going to be sustainable for the future. We want to move towards some more graphic designs now, to really differentiate ourselves, and then we're going to see what that does, and I think we're confident in that.
I'm curious, who does what within the company?
Max: It's not like he does this and I do that. Even though he's the photographer, I also help with ideas for what we're going to do with the photos. And even though Instagram is on my phone, he also helps with that. So up until this point, there hasn't been much task division. It's pretty much all in, all the time, both. However, the funny part is that I think his work ethic is better than mine. I think he's able to push through things more than I can, and I learn from that every day. Other than that, I think we both have a different approach, but the same end results. Every day is a surprise in terms of what we are going to do. One day we direct a video, and then the next day, we do something like this.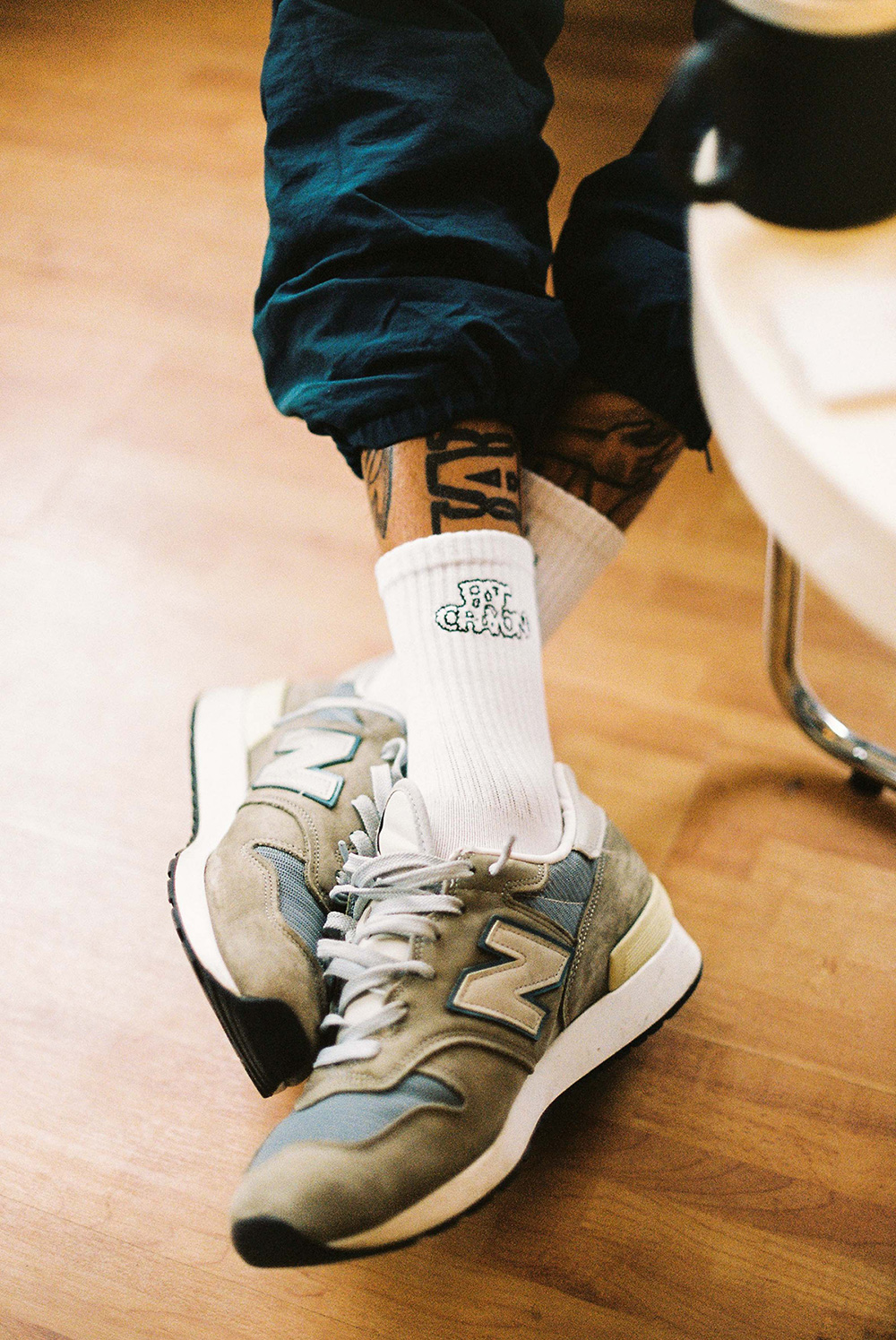 I want to ask about your support system and how important that has been. What role for example, have your friends played when starting the brand?
Max: I think he has a very close community around him. Very, very, very good people! I haven't lived here for that long, but his group of friends and I clicked immediately, so we're in the same group of friends now. They are very supportive, and all of them also do something of their own and have really big potential. So, we kind of bounce back off of each other. That's a really cool dynamic to have and I think that helps.
Jari: I don't even call them friends no more. It's just family. And we're moving as a whole. Everybody's doing their own thing, but we're supporting each other. I think that's the biggest blessing you can have, having an environment with all these great people that are willing to take steps for you, willing to fight for you, helping you with everything. I think that's the most amazing thing you can have, and that's one of the characteristics of the brand. We want to do things with people around us and help everyone we can help.
Max: I think these people have also been a major cornerstone for the company. Even though they don't work for the company, we take inspiration from them every day. We also speak to them every day so that makes sense. You take inspiration from what's closest to you, like a sponge.
What advice would you give to someone who is trying to turn their dreams into reality, based on what you guys have experienced so far?
Max: Just do it! That's an easy one, but it's true though. Just do it. It's also like what I mentioned before. If you really want to do something, I think it should shape up quickly, you know? If you've been thinking about something for four years, you can still do it, but it has to grow organically. You just have to do it. It has to feel right and follow your intuition! It's really important, to have that gut feeling. That's how we did it. If you get that one feeling, you go immediately, you go all in, you can't do it halfway.
What is the main message you would like to send out to the community?
Max: Do what you want to do and make sure that you stand behind every move. I think that's something that is really important these days. Do something that you stand behind, don't do it for the sake of doing it. We were talking about this earlier this week or last week. Everybody wants to be their own boss these days, and the reality is, that it's not for everyone, you got to do it because you are the right person for the job. You don't need to do it because it looks cool or something, do it for the right reasons. And I think that's an example of standing behind every move you make.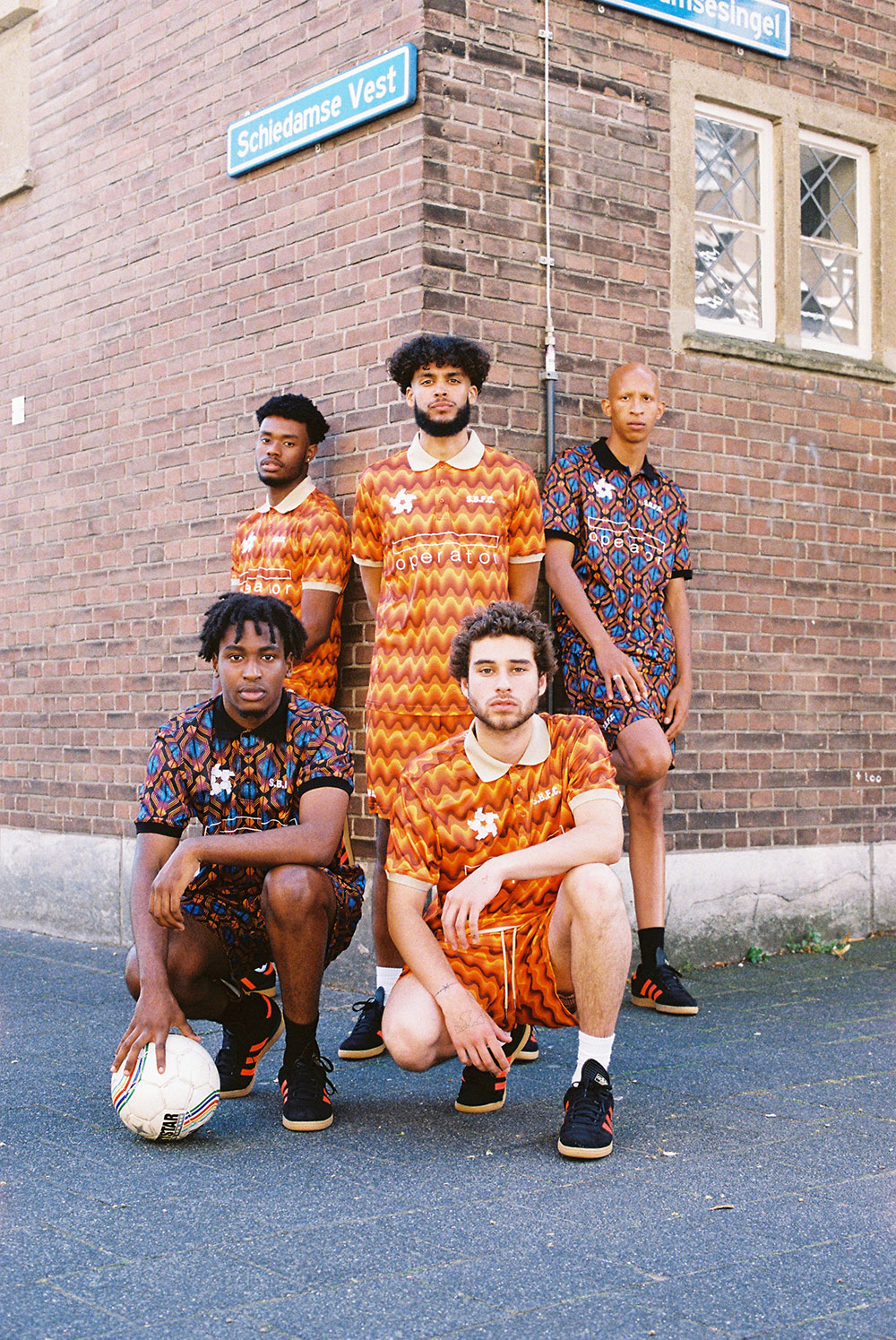 Final question, what are your hopes and dreams?
Max: I think for me, it's that we can really create something substantial, that can move on its own, and that leaves something behind. I also want to make all the stuff that I haven't seen other brands do, and we have both have great ideas for it. I also want to make something dope while on the other hand having a strong opinion about it and showing it. I think that's my hope and dream. And of course, it would be nice to become bigger and be this like huge company, but that's not what it's about for me. It's about doing what you want and having no concessions basically.
Jari: And I agree with that. From my point of view, I want us to positively influence the community, the people around us, showing them what we stand for. Them comprehending that and living with us, moving with us and succeeding with us, would be enough, that would be perfect. We don't need the millions of euros or a huge following on Instagram, we just want to move with our people.
Keep an eye out for Fat Crayon, the new Rotterdam based brand, creating apparel for a community that thrives together. After three successful releases, they are back in the lab and there's a lot of new items on the agenda, which will drop over the coming months!