YB Talks: Josimar Gomes
09-06-2020
• Interview, Music
Voor onze nieuwe serie interviews genaamd YB Talks gaan we in gesprek met getalenteerde jonge creatieven, muzikanten en ondernemers die naar ons idee het verschil maken. Jong talent waarvan de wereld het bestaan moet weten, met verhalen waarvan we hopen dat ze jullie inspireren. Dit keer spraken we met multitalent Josimar Gomes over zijn muziek, zijn toekomstplannen en Rotterdam. Interview door Natascha Sommerhalter.
Hi Josimar, who are you and what do you do? 
I'm Josimar Gomes, 27 years old. I'm a songwriter, rapper, producer and since last year I've also been learning to mix my own music.
And how long in the making has your musical career been?
Probably over a decade. It has been on and off in those years. Two years ago, I realized that I never actually gave the music my all. It has always been something I did on the side. I instinctively decided that 2020 would be the year I will give it my full 100% and to not look back.
Was there a moment when you realized music was something you could do?
I was already pretty young when I realized it. It was definitely back when I was still part of my old group; Shot in the Zoo. We were two friends that hung out a lot and shared the same taste in music. I had been experimenting with music before and he said that he always wanted to give it a shot. Back then we recorded a bunch of music and we eventually dropped a mixtape in those early days. One summer we did a ton of shows and it already felt like we were making it happen just by doing it. It all felt natural to us. At that point I knew I really wanted to pursue this.
Life is way too short to remain too humble
If you were to describe your music to someone who has never heard it, what would you say?
Good question. Personally, I don't like to put my music in a box because you tend to limit the experience someone has when they listen to your music, but see it as the soundtrack of the many sides and stories of a black man navigating and finding himself in this crazy world.
You have recently released a single along with a dope music video; can you give us insight on what it was you were trying to share with your audience?
Yeah with Play Pretend I really wanted to shed some light on some of the less positive sides of this industry. Lots of people don't have the right intentions right off the bat when they meet you because they already have this image of you set in their minds and know what they can get out of the situation. I feel like I can often sense (in most cases) the vibe people really have, so I instantly feel if someone is genuine or not. With this song I also touched on topics that were close to me, such as having a dear friend of mine struggling with suicidal thoughts which made me realize that life is way too short to remain too humble.
You've also worked with Orisun Studio to release a video, how was that experience?
That was an awesome experience. Orisun Studio is an online platform that creates projects dedicated to the craftmanship, creativity and talent of the music and design industry. Homegrown is just one of their babies where they work with artists such as myself to record an intimate live session with. They're a super dope group to work with, a collective that seemingly works together and have a clear vision of what they're trying to do.
So you are from Rotterdam, born and raised, how has this city impacted your work?
This city has taught me many things. For starters it taught me to be myself 100% of the time in any situation. With so many different ethnicities and so much diversity in this city alone, it's easier to be yourself because everyone is so different, if that makes sense. Also makes you realize that the world is so much bigger when you grow up here. As an artist that chooses to make English music, it does feel a lot more challenging to make it big here. That's why I've been focusing a lot more on countries such as Belgium, the UK and Germany. A few years ago, to build up my portfolio as a model, I would link up with different photographers from those places just so I could broaden my horizon. I'm planning to do that as well but for music this year. I think once you make certain moves outside your own country, your own country will catch up. The Netherlands has never been a trendsetter in that regard.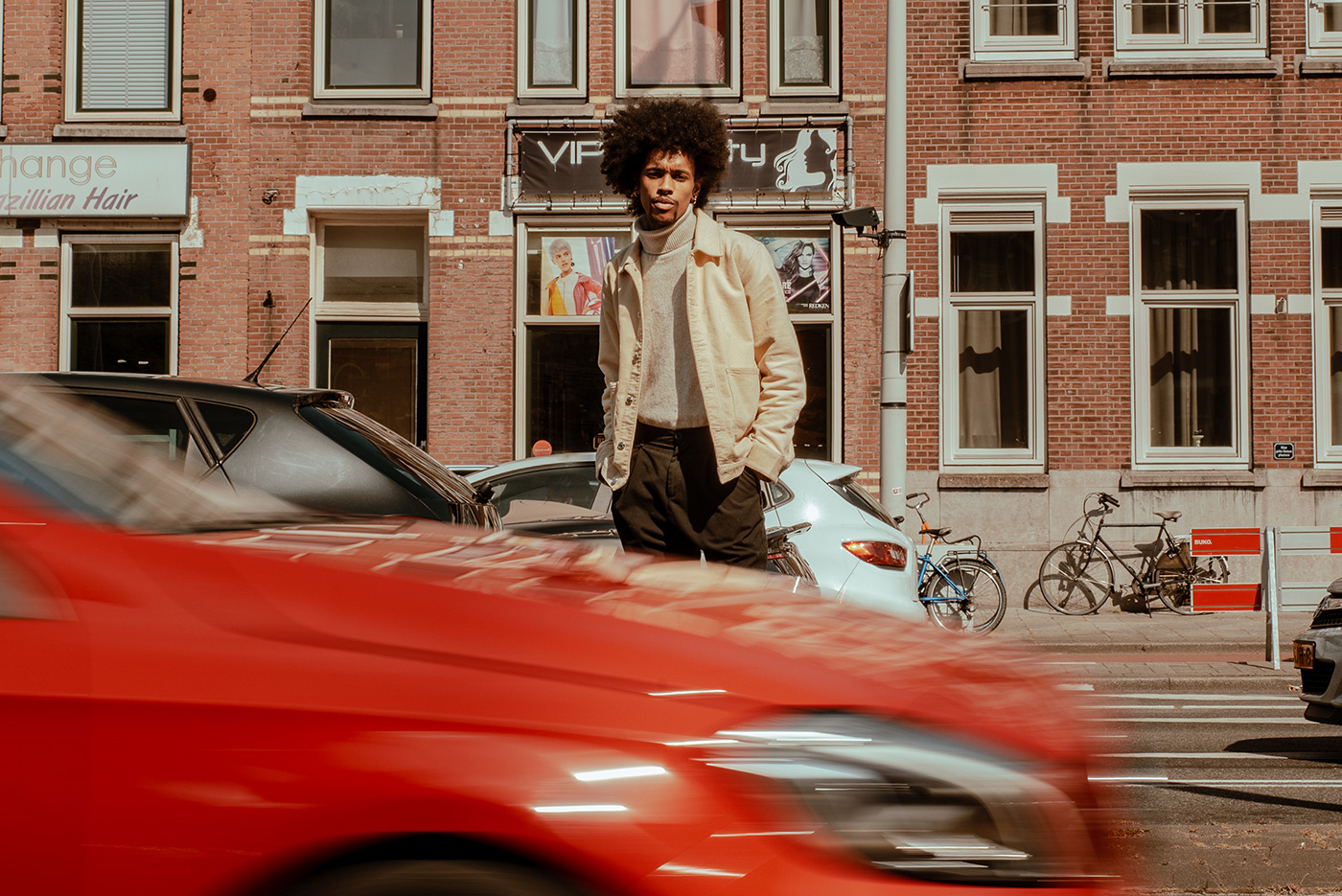 What skills do you feel you've had to use in order to navigate a musical career?
Honestly, I had to brush up my skills while manoeuvring this industry. I've been a creative person from the beginning, but very quickly you start to realize that just your creativity or your talent won't necessarily get you where you need to be. Especially as an independent you have to have every facet of being an artist on lock. Last year I focused a lot on how to market my music, I set up a six-month plan so I could consistently drop music till June. I feel like that really helped me be a lot more focused and disciplined.
Can you name a producer and other fellow artist that should be on our radar?
I feel like a lot of people are just now getting to know him more, especially in the industry,  but I have to say the homie Youp. Think he's going to do very big things in the next coming months.
Also just got in touch with a female artist that I think is very dope. Her name is Zulu Green. She's from Amsterdam, only has a few songs online but I could tell from those alone that she's very talented and she has a bright future ahead of her. Y'all should check her out.
Which venues in Rotterdam hold a special place in your heart?
I think that special place will always be Twentysix. It was one of the first places I felt at home, being in a space with so many likeminded individuals was something I longed for when I was a lot younger. Right now, it has to be Poing which used to be Bar, Superdisco where I often host, and of course Bird for all the dope concerts.
What album have you been loving lately?
Toooo many. But one I tend to go back to a lot is Modus Vivendi by 070 Shake.
So tell me, what impact do you hope your music has?
I feel like I'm a storyteller at heart. One that not only tries to tell his own story but also the story of others that feel unheard. I like to write songs in different perspectives just so people can look at life through a different lens and maybe have some more compassion towards a different view of life. Hopefully my impact can bring people together.
Lastly, we would love to know what themes we can expect your future music to discuss?
Recently I wrote a piece about the ongoing police brutality in the States. With the current situation of George Floyd, I felt like my head was clouded with so many different emotions. After seeing the video, I felt helpless, angry, I was even on the brink of being depressed about it. After going to protests in Amsterdam and Rotterdam, I decided to finish the whole song. I tried to put every feeling of that rollercoaster into the song and I think that it will resonate. I also wrote a lot more about finding my own happiness and what that looks like, but you will definitely hear it in the music I'll be releasing in the future!
That's great, and what will be the message you are trying to send?
I'd like the song to be a call for action. To really come together and talk about what we have to do in order to make it work for all of us.
Listen to some more gems on his Spotify!