YB TALKS: Lady Shaynah
12-03-2021
• Interview, Music
Yardbird Talks continues! In samenwerking met Jägermeister en hun #SAVETHENIGHT project  – waarmee ze het nachtleven op verschillende manieren ondersteunen in deze uitdagende tijden – schijnen we ons licht op getalenteerde creatives en artiesten waarvan de wereld het bestaan moet weten, met verhalen waarvan we hopen dat ze jullie inspireren. Dit keer spraken we met de singer en songwriter Lady Shaynah. We spraken met haar over een jeugd vol muziek, het verhuizen van Suriname naar Nederland en de helende kracht van muziek in moeilijke tijden. Foto's door Floor Besuijen. Interview door Natascha Sommerhalter. Styling door Dair Design by Odair Pereira.
Hey Shaynah! Who are you and what do you do?
Hi! I am Lady Shaynah, 26 years old. I'm from Rotterdam, but I was born in Curaçao and partly raised there as well as in Suriname. I came from very Caribbean parents and moved here with them when I was young.
What kind of artist would you describe yourself as?
I do a lot! My main instrument is my voice, so therefore I do call myself a singer. I am also a songwriter. As Lady Shaynah the artist, I make R&B type of music, which could be funkier one time, a bit more trappy another time, or more neo soulful the next time. As a songwriter, I don't really keep the genres or styles, I just write. If I end up singing it myself or selling it to another artist, that doesn't really matter to me. I simply make music in the biggest sense of the word. I also started producing and making instrumentals for animated videos or dance theatre performances.
How did you actually get into music?
I was blessed to be born into a very musical family. My parents are both professional musicians and their parents also made music. Growing up, there was a rule that we had to do well in school, play an instrument, and play a sport. My mom was performing with me still in the womb, and even after I was born, she never took a break. My sister tells me stories of when my mom was practicing with the band or practicing her lyrics for the next show and that I would try to sing along, but I wasn't even able to speak yet. I would hear the same songs over and over again and remember them. By the time my mother would have to do the actual show, I was able to sing all the songs along with her. I was never really aware that I was making music. Apparently, I started writing songs before I could even write, because I used to read all my Teddy bears stories, but I wasn't able to read yet, so I would just make the stories up myself and in order to remember the stories, I would sing them, and they might have rhymed here and there. I don't think it was till high school when I noticed that not everybody's family is having band rehearsals every Friday night and writing songs and singing. That's not considered normal. I don't know when the first moment was, where the passion started, it was kind of always there. A little before my twenties is when I made the conscious decision to actually get into the music business, study at the conservatory, and make it more of a career instead of a hobby.
How would you describe going to school for music?
It's the best and also the worst thing I've ever done in my life [Laughter]. There was a conservatory in Suriname where I used to live. During my final years of high school, I would attend high school from 7:00 AM to 2:00 PM and afterward went to the conservatory part-time, basically doing two studies at the same time. The conservatory in Suriname had just started, so there wasn't a real curriculum yet. I decided that I didn't want to wait till they figure things out. I wanted to come back to Holland and study at Codarts. Therefore, I used the conservatory in Suriname to get me on a certain level that would get me into the school in Rotterdam. It worked, I got in, and it felt amazing in the first few weeks. I thought okay, I finally found my tribe, found people that think as I do. Back in high school, I was around people that wanted to become a doctor or an engineer and they really focused on that. I lost a lot of friends before moving back to Rotterdam. I was competing and would often not be at school. I also started to be a bit more known in Suriname because I would have music out and video clips of me on TV and I was starting to be recognized in the streets. I couldn't go to everybody's birthday parties because I had a gig in a different country, and not everybody understood that. I didn't really have time for social interactions, I was pursuing a dream.
Codarts was finally a place where they understood me a bit better than back home. I was finally doing what I thought I was destined to do, but in my first year, I also became aware of everything I didn't know, and it is something every creative student goes through in their first year of study. That was pretty difficult mentally because here you are, moving back to a different continent to pursue your dream, and you're like, this is the thing I'm the best at, in the whole world, and you have a teacher tell you this and this is where you need to improve. I started studying jazz and switched to the pop department a few years after and finished that with my own concert in which I did my own music, and it was pretty awesome to be able to do that. I kind of made my own program, studying a hybrid combination of jazz and pop, which technically doesn't exist at Codarts, but I did it.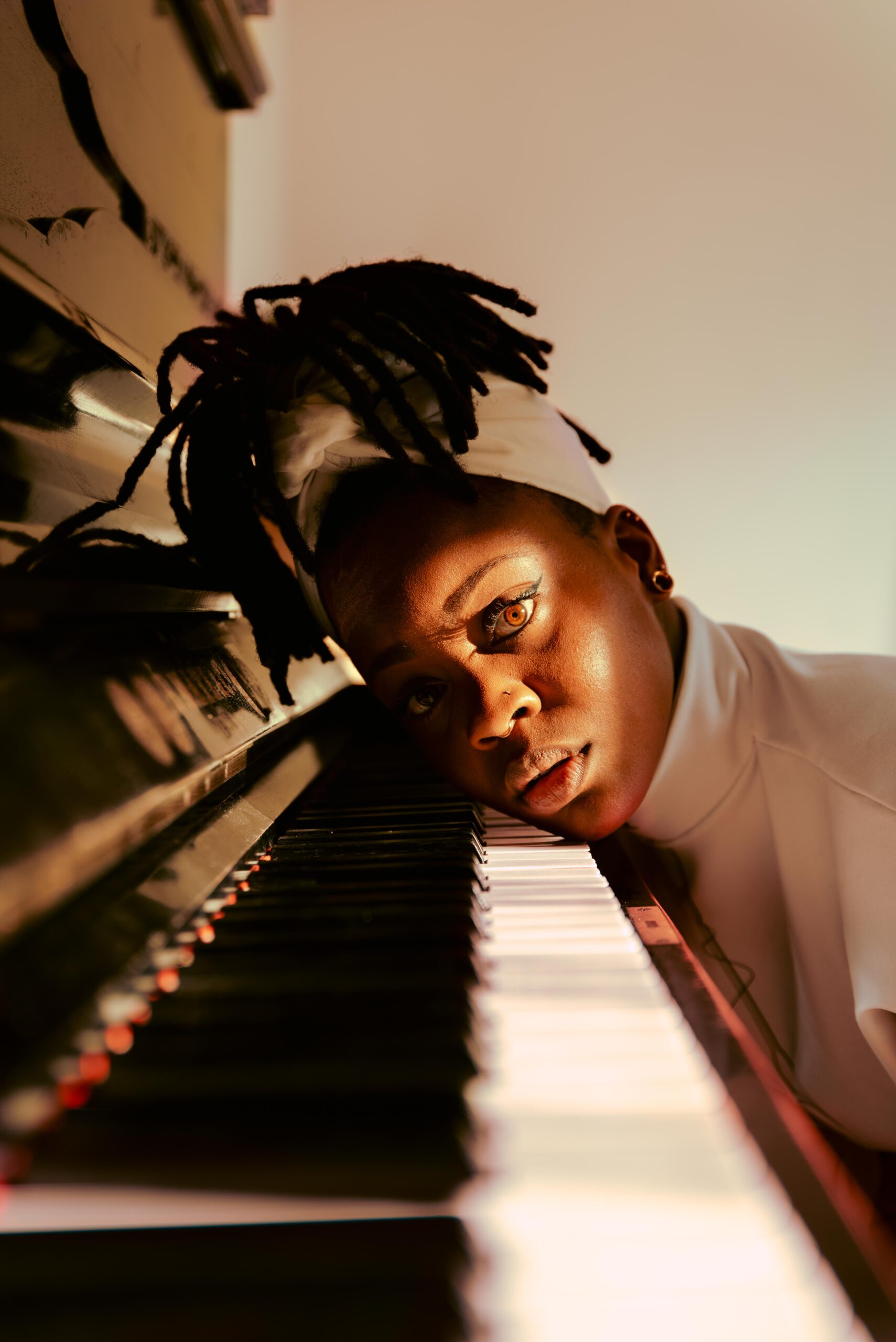 You are also a teacher, can you tell us what that has been like?
I work at a vocal academy, where I do vocal coaching mostly. The academy starts with toddlers who take general music-themed lessons. And it's mostly playing, doing musical games, and of course, a big emphasis on singing, but kids already do that naturally. We just try to challenge them a little bit. From there we go to all ages and all levels as well. We also do the coaching for TV programs, like The Voice of Holland, Voice Kids, and the Junior Song Festival. I have certain students who are in a studio regularly and they come in with the songs that they need to record like a week after. I also have students who just like to sing and would like to do it in a healthy way, but they don't really aspire to be an artist like that. I do a lot of different things and that is also why I don't work at a school, but at an Academy for music. I've worked at an elementary school as a music teacher but didn't really enjoy it. The motivation of the kids is different. At a regular school, some are there because their parents enrolled them in that subject and not necessarily because they wanted to. And then there is the bureaucracy itself. Other teachers still look down on music teachers, especially because music teachers and theater teachers tend to be a bit younger than for example, a math teacher. If you walk into the teacher's lounge, they just look at you, like you're like the odd one out to be here. And then of course I'm the only black person working there, so you have that added pressure. I'm a pretty artistic person, so the way I dress and stuff like that, it's immediately like: "who are you"?
How long were you at that school before you left?
Six months [Laughter] I didn't even finish the year, but also it was my intention to at least finish the year, but then they cut budgets and things like that, and the first thing they take out is music. They weren't able to pay me anymore. The Netherlands is big on that and the cultural sectors are the first ones to get cut, especially now with the pandemic going on and all the financial aid. If you are a sole proprietor, especially if you work in the music industry, you're the worst off. It is ridiculous. They're like: "Yes, but you chose to be a sole proprietor, you chose this environment to work in, in which you knew the money would be fluctuating". But if you look at the last few years, I have never made this little money. It's like: "We're just going to help you till you get to minimum wage". I mean I can still work, I can teach online, but it's been a difficult year also just mentally, not just for myself, but for people around me as well, which also affects you as a person. I'm a loner most of the time, so I was okay at the beginning of the pandemic because it's not much different from what I usually do.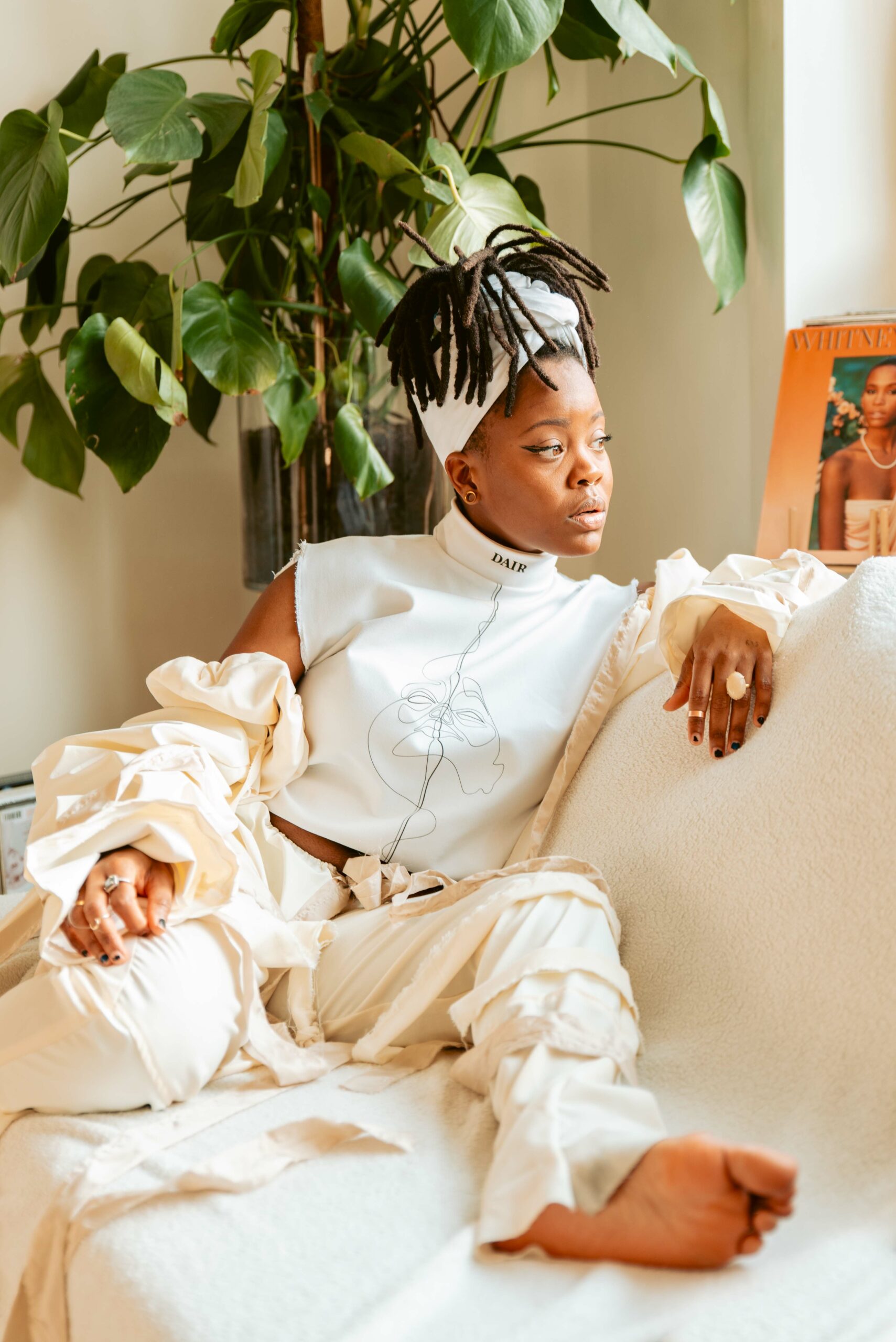 What is one way in which the pandemic has influenced your experience of being an artist?
I miss performing, and it was a shock at first because I thought: "Whoa, I must have a big ego, if I thrive off of other people's applause. What's happening. Why am I like this"? I did do two live streams, but it's not the same. I feel emptier after the performance than before. That felt so weird to me. I think it has to do with energy transfer, a performance for me is not just people looking at me trying to do something greatly and then get an applause and go home and feel great. My part of the performance is singing the songs and giving the audience something. But you know, that little smile on somebody's face when you sing that one lyric where they're like: "Oh, I can relate to that". Or if somebody just looks at someone else and say: "I know what she's talking about". I particularly enjoy those moments, when I sing and I can see somebody's energy change, I can see everybody in the room experience it at the same time. That is what I miss, and the live stream doesn't give you that. It's about the exchange of all of the energies in the room, the little reactions, including my band and I.
Who has inspired you musically?
It started with music from the era of record labels like Motown and Arista. People like Gloria Estefan, Stevie Wonder, basically the seventies, eighties and nineties. I also have older siblings, they're both in their thirties, so they used to be big on nineties music, like TLC, SWV and Salt and Pepper. That was what I used to hear around me a lot while growing up. I gravitated towards R&B most, but now I listen to a lot of music and I get inspired by the most random things. Sound wise it can change from month to month because there are so many new artists popping up. I'm listening to a lot of Snoh Alegra right now. Love Ari Lennox and H.E.R, my all-time favorite. I recognize so much of myself in her, she plays a lot of instruments, she doesn't really care about what people think about her. Some people see her as a bit masculine because she usually wears tracksuits, and I tend to do that too. I just love that there's somebody out there in the "mainstream" who kind of does what I do too. A lot of the advice that I get, is pick one instrument and focus on it. I'm like no, why would I? I mean, I'm still studying all of those instruments, I don't want to be a Jack of all trades, master of none, I know that my voice is the instrument that I master. But if I can play a little bit of bass in this song, a little bit of keys in that song and play the guitar in that song, why not? Do you know anybody else who does it? Probably not. So that's how I'm going to set myself apart.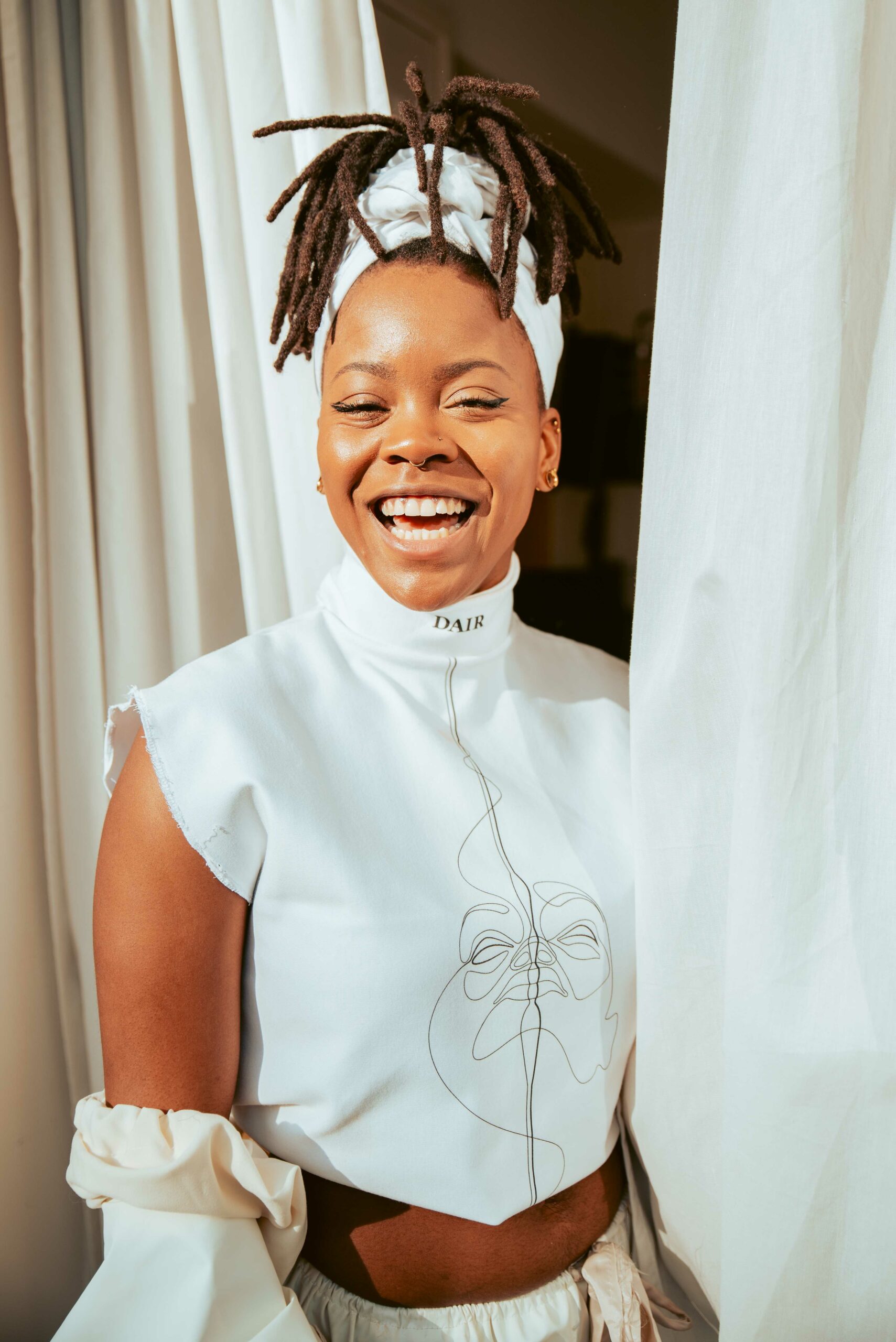 You are quite multitalented, do you ever feel like you need to work with other people, or do you find yourself doing a lot by yourself?
I do a lot on my own, and I don't know if you're into astrology, but I'm also a Virgo and that means that in my work life I like to be in control of things. I can delegate, but only if I know that the person that I give the work to is going to do a better job than I am. I can work with people, but I first have to like them as a person and vibe. We don't have to be best friends, certainly not, but if the energy is off, it's hard for me to make something really creative. I can still work, but then it will be just work and the product won't be as amazing. There are many things that I'm not great at, so I love to ask for help for the things that I know are not my cup of tea. I would rather hire somebody who can do a better job, but when it comes to making the actual music, I kind of split myself into the songwriter and artist. The songwriter can work with a lot of producers and for a lot of artists. She doesn't really care. She just writes songs. I can literally sit behind my desk and write a song for you. I probably won't care that much for that song, which makes it easy to sell because I'm not attached to it. Business-wise, amazing! The artist, Lady Shaynah, is really particular. As the artist Lady Shaynah, I don't work with just anybody. I really need to vibe with that person, as I said, but I also have a particular sound in my head that I want to make. If I know I want to make this Snoh Alegra type of Prince-y beat, I'm not going to get into the studio with a hardstyle producer. The artist is quite particular and doesn't really work with everybody. Even the designers that I hire for my album art, most of the people I work with started out as friends or were recommended by friends. Or I really need to like what you make, and I'll reach out to you and see if we vibe as people, but then there will always be a kind of friendly situation from that too.
How is it to work with you?
I can be difficult but at the same time, really easy to work with me. I'm really straight to the point. Mostly really clear with what I want and within which timeframe I want it. Some people can't handle that, they see it as me being a bitch or insensitive, and other people love it because they know that this is what I get, this is what I need to do. I'm very aware of the fact that people also need to be able to work with my personality because I don't talk a lot. It's like, okay, this is what I need you to do, I need it now, or I need it tomorrow. And if you can't do it, that's okay, just let me know.
Overall, I have amazing people around me that can help me if I'm a mess, which I am regularly. They can take over and make sure that everything is still in order. I have my days where I'm on point and I'm powering through and I get shit done, but I also have days in which I don't get anything done, and I'm a big emotional mess. And I'm like, I can't work today, maybe I should just stop the music business. I think I have that talk with myself four times a year like maybe this is not for me. And then I have to man the fuck up and I do what I have to do [Laughter].
How does your background influence your music?
I think your first influences start with your parents and your surroundings. My mother is a really proud Surinamese woman, she has lived in Curacao for 10 years before I was born, and my dad is from Curacao. Both countries have similar musical cultures and just similar ways in general. I just put it under the big umbrella of Caribbean culture, even though one is an Island and the other is not. That kind of shaped the music I listened to. There was a lot of black music on our radio, a lot of black records growing up and of course the occasional Latina music. In the Caribbean, we listen to most of our own music and I think rhythmically Caribbean music is more advanced, in a different way from Western music. I have a lot of that in my ear, and that is probably what is going to come out of me when I make music. We also listened to a lot of jazz, another black style, so that is also in my ear. The typical chord progressions, typical harmonies, the typical rhythmical structures within those genres, those are usual to me. I guess that mostly jazz and the Caribbean culture in general and Caribbean music kind of shaped my ear and influenced me heavily.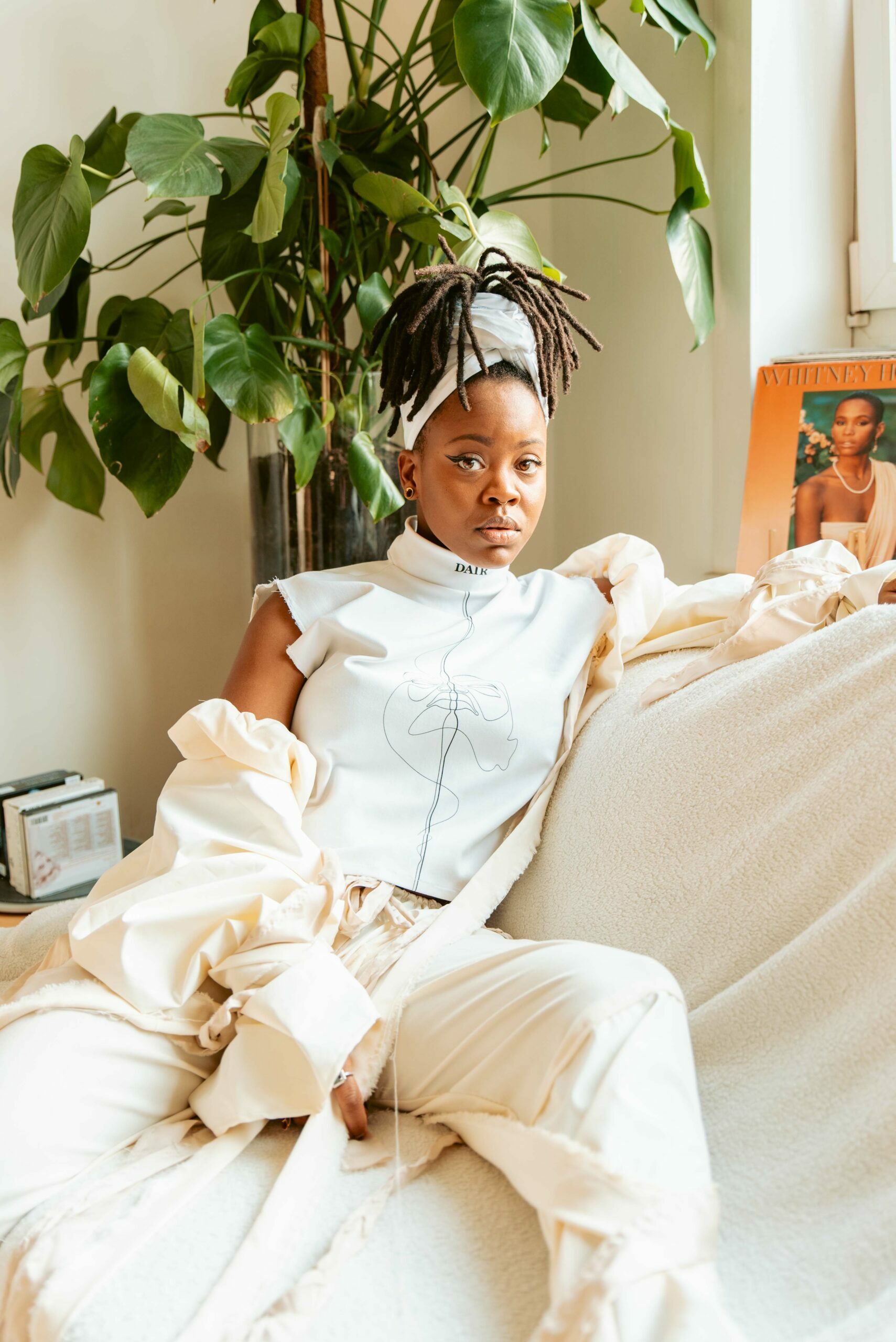 We checked your Spotify bio and read that you took a three-year hiatus from music. Can you tell us more about this, and how it feels to be back?
I released my first EP in 2015 called "Dare". A lot of people compared it to the sound of Janelle Monáe, very upbeat, very funky, and very much critiquing the world and the system. I was really mad at society and I put that into the record. I had just won the music matters awards, which meant we had to make and release an EP within five months! I was quite proud of what came out. However, I grew up and found that what I had put on that EP wasn't really resonating with me an artist anymore. While we were recording that EP in 2015, my grandfather died and he was one of my first musical influences, and then the person that I thought I was going to marry was no longer my partner. I also started my own business, got a new manager, and then fired that manager within that same period of time. That was also my first year of Codarts, and we were touring with Sabrina Starke as their opening act for her album that just came out. A lot was happening at the same time and it felt like I went through growing up, but at two times the speed that you normally would.
While I was going through all of that, I wasn't able to write about it because I was still in the middle of it. I was still hurt, confused, mad at the world, but also happy that it happened so I could move the fuck on. I was going through so many emotions that nothing came out of me musically, therefore I wasn't creating anything new. This all happened throughout my 22nd year of birth and I just took the time to process it all. I took the time to kind of figure out what I want from life and love, from my family and friends, and that's also kind of the age when you start thinking about family structures, generational trauma that you might not have been aware of, and things like that. When I felt like I was dealing with it, I could then start writing about it. The moment that I finished the songs about that period, I also closed that chapter of my life. From that experience, I've learned that as an artist, writing is also a part of the healing process for me.
I'm actually a really private person. I can talk a lot on stage now, but before that, I would just sing the song, not give you any context and let you figure it out yourself. But I've noticed that people don't even think about you when they hear you singing about heartbreak for example. Instead, people always mirror it to themselves first. People were like: "Oh my God, I've been through the same. I'm so happy you're saying this, I wasn't aware that this is something that other people have too". There's this kind of collective healing happening. Becoming aware of this has really been feeding me spiritually and emotionally. It's really important for me to deal with my issues and then to literally let it go through music. It's also weird because if it comes out now, that's the point where I am done with it, but it starts at the same time for the outside world. It's pretty tough when you have to tour with an album where you're done with the situation but still have to talk about it for two more years. It's fine though, you can talk about it in a different way and it keeps it fresh.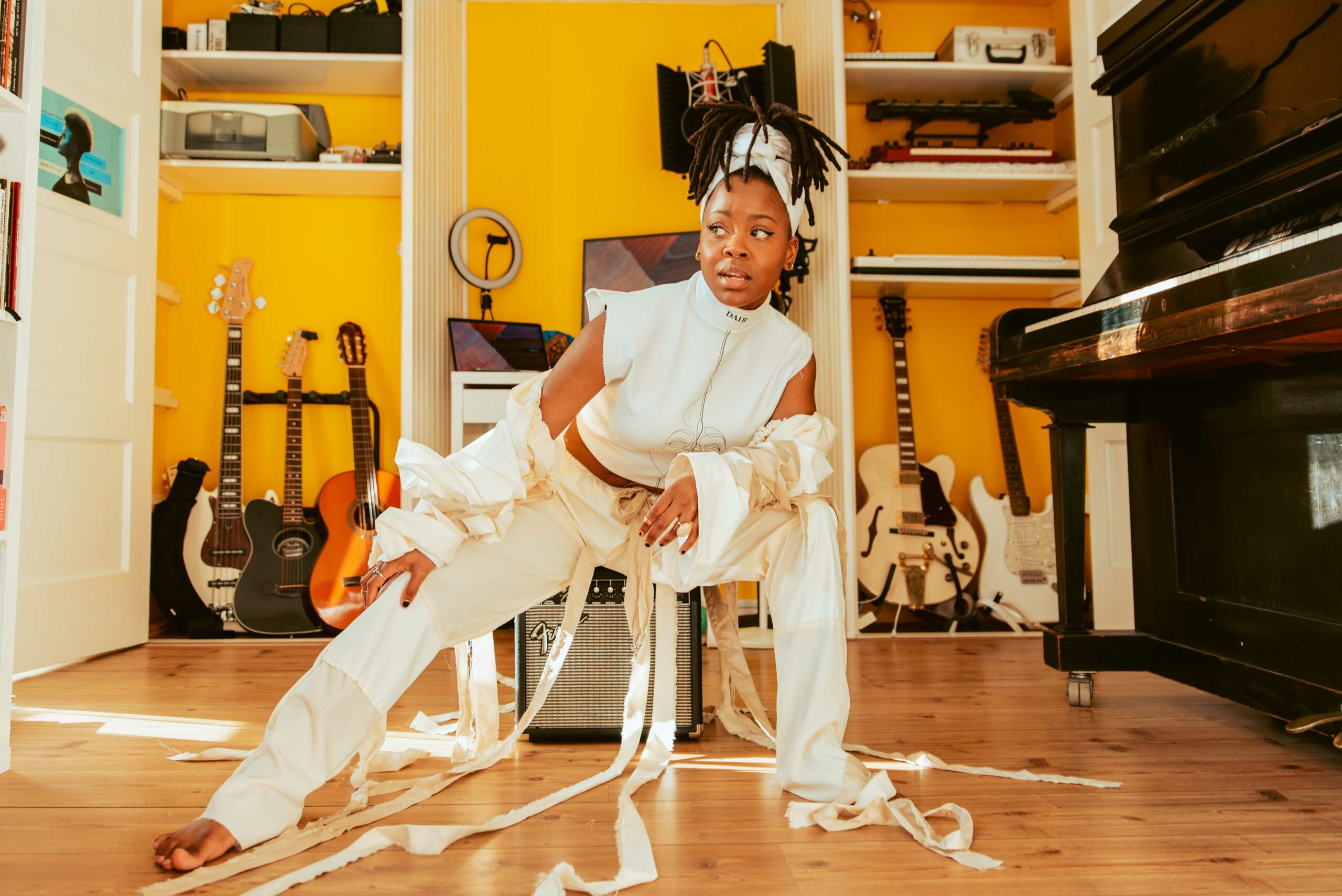 What can the audience expect to hear and feel in your next EP?
It's a three-part EP, basically a Trilogy! I called it "Chapter 22" because of everything happening around that year of being 22 years old. I wrote a lot of music, a lot of songs, and a lot of poetry around that period. I noticed that what I wrote came out in three parts, similar to stages of grief. There was one category comparable to when you first break up with somebody. You're hurt, confused, and ask yourself: "I really thought this person was the one, but apparently, they're not". I also noticed that I was kind of happy that it happened because it meant that I would not be with that same person for even more years, knowing he wasn't "the one". I called that first chapter "Puzzled" because I was so confused. I'm upset, but also happy. I want to cuss your mama, but I can't because she's also kind of nice [Laughter], I kind of still think I love you, but I don't want you anymore. That first part of the EP is named "Puzzled" and it came out last November in 2020. The first track that I wrote for "Puzzled" was "Confusion". It's about that first moment where you're like, what the fuck? There was also a song on there called "Walking" about how we have to keep moving and eventually we should be okay. However, when I wrote "Walking", I didn't feel that way. It was more of a mantra for me to get up and do something. I hope that other people will feel encouraged to get up when they listen to it.
The first part of the EP is already out, and the second part is actually finished and I'm just figuring out with my team, how the fuck I want to release it in the middle of a pandemic. The second part is called "Wasted" and is inspired by all of my friends who pushed me to get back out there. They made me a Tinder profile and started swiping for me and it was really funny! There are a lot of good stories, but I can't do it, it's not in my nature to be like that. That kind of failed, but there are a lot of nice experiences that I got to write about. I'm never really that explicit in my songs, I love metaphors for example, but in "Wasted", I started to just call things as they are. Stories that you tell your best friends and they're adding to it and they're like: "Oh my God, I know that". That is what "Wasted" turned into, basically me just trying to not be as responsible as I usually am and letting loose a bit, allowing myself to figure out what it is that I want in love, but also not really thinking about it that much. There's a song on there where I talk about the first time I've ever fallen in love with a woman because I've also been in relationships with women as well as men. And that's a different type of love. It's hard to explain, but it's still different in a way. At that moment, which was also around my 22nd year of birth, I was figuring out if I am what they call Queer. But I don't care that much about it and I am blessed with a family and friends that also don't care that much. "Wasted" is kind of the embodiment of that part of my life, which is a lot looser and me trying to be irresponsible but failing dramatically and just good stories about that time, but also a bit like, okay, this is apparently not for me, but what is then and how are we going to get there?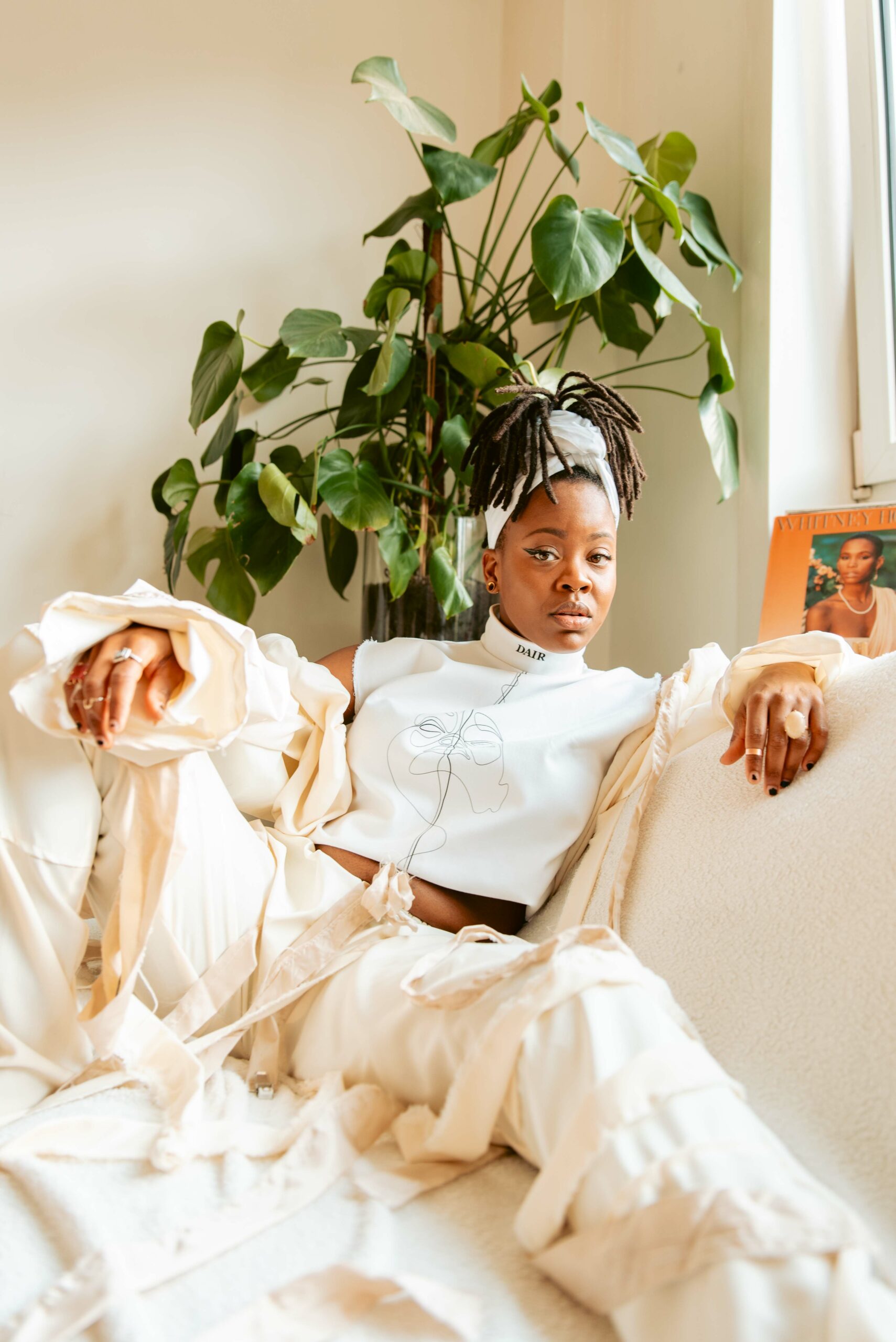 How have you been finding the right people to have as part of your team?
I'm still putting it together, but the manager that I work with right now, I had already been following her for years because she worked with an artist that came up from zero to a hundred really quickly and in a really nice way. I was not on the level where I could offer her something, so I was not going to reach out just yet. I am a resident of the house of knowledge, which is an organization that focuses on artist development. They had a master class with this manager, and I asked a lot of questions in that class. At one point she gave me her contact details. I had a talk with her afterward and she started out helping me with small things, advising me, and gradually becoming a part of what I'm doing and now she is a core member. She's actually the only member that I work with regularly. She knows where I'm trying to get and understands me and also holds me accountable. She's usually trying to slow me down, making sure I take care of myself. She's literally like a sister sometimes, a mother, friend, and a business manager other times. I do also have a camera person who basically always films my content and a stylist that does all my outfits for performances, shoots, or just appearances. It's coming together nicely, but I'm not there yet when it comes to the team. However, there is also beauty in growing and we're managing right now!
As a black woman in the music industry, what has the experience been like so far?
I don't know if I have a different experience or something. I mean, most of the people around me are black. My social environment is mostly colored in general. I think I can count the white people around me on one hand. The musicians around me are also mostly colored, only my keyboard player is like the whitest dude you'll ever meet, but he has always been around colored people, so he doesn't necessarily come across as the whitest dude you'll ever meet. Sometimes he does and it's funny [Laughter], but he's respectful! I do notice and I'm not sure if this is based on facts, but sometimes I do see certain platforms where I don't see myself being represented. I don't know if that is the reason why I'm not on those platforms, but it is quite noticeable that there's nobody like me on there. That might be a thing that might have been holding me back. I'm not sure, but it is something that will make you frown.
I do think that in school, it was my biggest problem. I was the only black student in the department. And because I was studying jazz, when they were talking about music history or certain things that would trace back to black music, they would describe it in a way that I know is not completely correct because I grew up in that culture. I think it has also caused me to be misunderstood by certain teachers because they just didn't know what to do with me. In my first year, I came into ensemble class with Esperanza Spalding tunes and I mean, my friends could play it, but we're used to those rhythms, but if you've never heard that before, you're going to have to study that rhythm. The teachers would kind of be like, Nah, we're not going to do that, it's too difficult. We're just going to just focus on this now. I didn't really understand why, but of course, none of the other students would bring in things like that because they're not familiar with that. If I would reference certain things, it would not always be understood and if I have something in my head, that I want to do, like for a performance, or I want to switch an arrangement, if the teacher doesn't know where I'm coming from, they're not going to be able to help me get to where I want to get. For example, there is one thing that happens in R&B music, just to give a very practical example. In music, you have scales that you follow when you sing a melody. Usually, if a song is in major, you sing major scales and scales that are relative to the major scale. In R&B music, with the riffs and the runs that you've probably heard a lot with Jasmine Sullivan and Brandy, you tend to do a lot of minor runs over major scales, and in Western music theory that is flat out wrong! It's a big no, but in R&B music, it happens all the time.
That's so interesting. Does that mean that the theory is outdated?
Not necessarily, in music theory you have rules and then you have a list of exceptions to the rules. However, in the end, the ear justifies everything in music theory, if it sounds good, but it's musically incorrect or theoretically incorrect it might still end up in records. It happens a lot. There are a lot of records where a singer is also just singing out of tune, but the energy is nice. Every musician knows if it sounds good, you're just going to go with it. But how is an institute going to measure that, right? If you listen to the radio in popular music or if you go back to the eighties, a lot of it was theoretically incorrect. But yea, navigating the industry as a black person, I think I am doing okay. I think there are artists out there who have had worse experiences than I have.
Favorite instrument to play?
I would have to go with my voice, that's my main thing. If I would have to choose an instrument that is not in my body, I would have to choose the bass, particularly when I'm on stage with my band. If I'm alone, I love the piano, because I'm the most comfortable and educated on the piano. When I am with the band, I have an amazing keyboard player, so I don't even have to bother with the keyboard. It's just the vibe of the bass that's so special and strong, and it's totally badass!
What album have you been loving lately?
Erykah Badu, "Mama's Gun". She's been on repeat lately!  Also "Rapture" by Anita Baker, and some Victoria Monét.
What advice would you give to someone wanting to follow a career as a musician?
Educate yourself as much as possible about the business that you are trying to get into, and part of the education is preparation. If you're going to have a meeting with a label, know what questions to ask, know what you want from them, know what you can give them. Really knowing what to say, how to say it, and how to reach out. A lot of this information is easily found on the internet, buy a few books on the subject and you'll be good. Second, have patience, it won't happen in a day! Lastly, know your worth, because I think a lot of artists sell themselves short and take deals with people who don't necessarily want the best for them, but because there isn't anything better available at that time, they do go for it. In the long run, they end up regretting it. And I mean, of course, you have to take some risks sometimes, but let them be calculated risks!