YB Talks: Surreal By Mau
29-06-2020
• Design, Interview
Met onze interview serie YB Talks schijnen we ons licht op getalenteerde jonge creatieven, muzikanten en ondernemers die naar ons idee het verschil maken. Jong talent waarvan de wereld het bestaan moet weten, met verhalen waarvan we hopen dat ze jullie inspireren. Dit keer spraken we Mauricio de Vries.
en Maureen Terlouw die onder de naam Surreal by Mau bouwen aan hun eigen creatieve universum waar kunst, mode en fashion samenkomen. We vroegen het Rotterdamse koppel naar het verhaal achter hun project, hun inspiratie en plannen voor de toekomst. Interview door Natascha Sommerhalter. Fotografie door Floor Besuijen
Hey guys, so both your names start with the same first three letters, hence the name Surreal by Mau. Who are you and how did your duo come to be?
Mauricio: Hey, we're Mauricio and Maureen and together we are Surreal by Mau!
I've always wanted to make t-shirts and have spent an eternity brainstorming interesting ideas, I think it started when I was 12 and I read a funny shirt. 
Well one day I just sort of had enough and thought fuck it, I'm gonna do this and just went to the Hema, bought a few shirts, then some markers and paint at the Action and got started. It quickly grew into an obsession. I was performing a lot those days and decided it might be smart to have some merch I could sell. I think people were more excited about the merch than the performance so I figured I might be on to something.
Around the same time, I met Maureen. We met in front of a library randomly. Apparently she knew she had met the love of her life. I was just playing tinder in real life really, quite sad, I even charmed her with chocolate.
We had a lot in common and started hanging out, and at some point I was making this shirt and she offered to help with painting something. From there we realized if we combined our talents, we could make something much cooler than we were capable of alone. That was really the foundation of our creative partnership.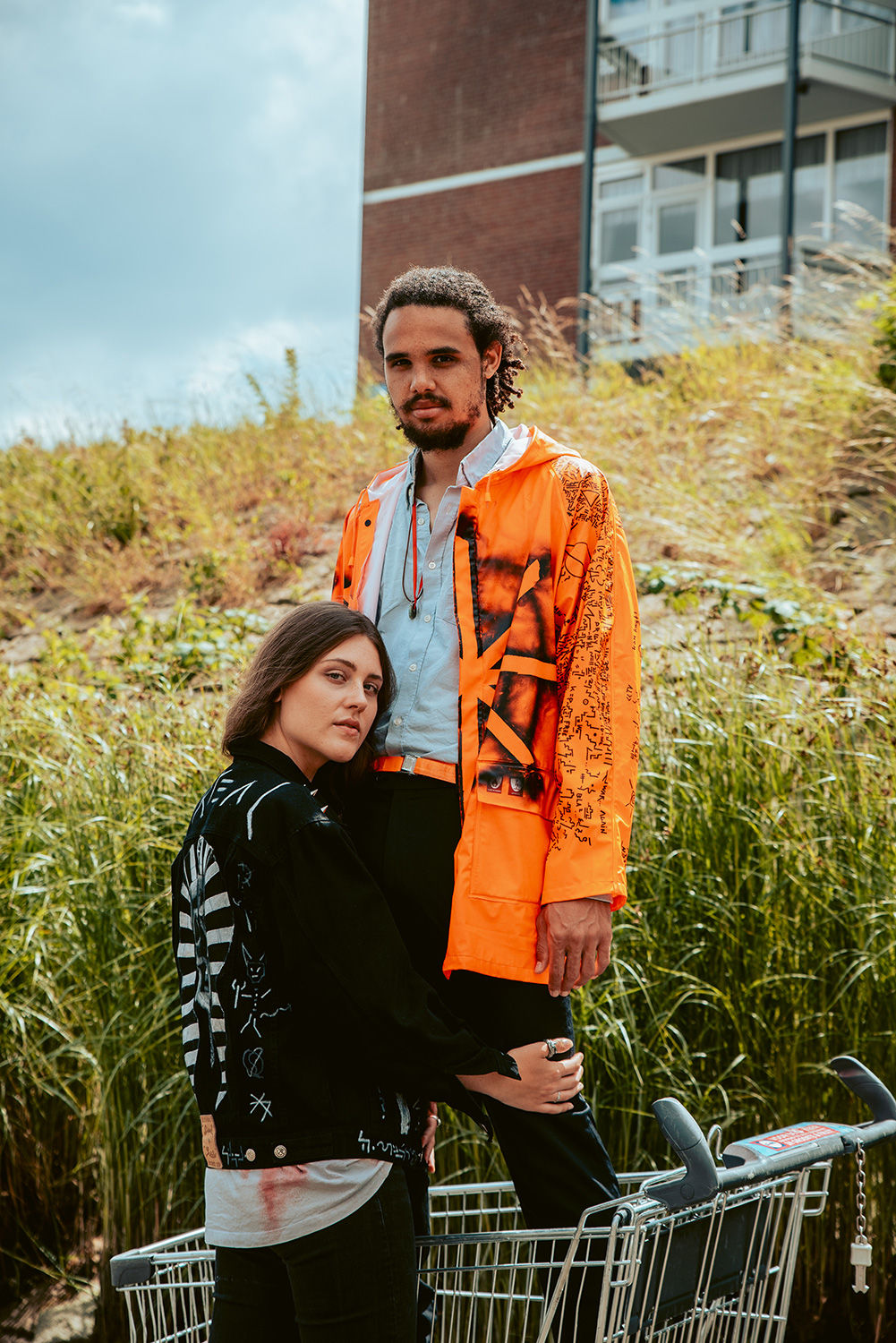 Your work consists of various kinds of art, can you tell us what exactly it is that you create?
Maureen: We see it as different expressions of the same idea. We built this universe together. It's a kind of dystopian reality based on this one, but a few hundred years in the future. There's a whole backstory, mythology and everything. Basically, the clothing is what people would wear in this universe, the music is the soundtrack, you could look at the paintings as storyboards. I really like painting, people have told me I sing well, and according to Mau I'm a fashion genius but yea, I love to draw and paint primarily.
Mauricio: I would say I'm primarily a writer, but I also love to think visually, in terms of movies, I love big ideas, just telling stories in general really, so that way the medium is easily interchangeable and it's easy to make people think you're good at all kinds of stuff while you're tricking them cause actually you're only really doing one thing, working off one idea, and finding new ways to tell that story.
You don't need to go to art school, you just need to be passionate and dedicated.
And what inspired this universe that you have created?
Mauricio: Life really, and how shitty/beautiful it can be. We both have interesting minds as far as deviation from the norm goes. We also have a lot of imagination, so we try to see our creativity as a playground for that. A place where we can express ourselves and let our subconscious emotions roam free. It helps us stay sane in this crazy crazy world. 
Maureen: It's also amazing to see people interacting with our little imaginary universe. Whether it's the music, the clothes, or the art, when people form their own opinions about what we're showing, what we're trying to say, even if it's completely different from the original intention. That's kind of the point right? You're creating a medium for people to interact with, that's the beauty.
Mauricio: We love to inspire as well, like hey look if you want that shit just go out and do it and figure it out along the way. You don't need to go to art school, you just need to be passionate and dedicated.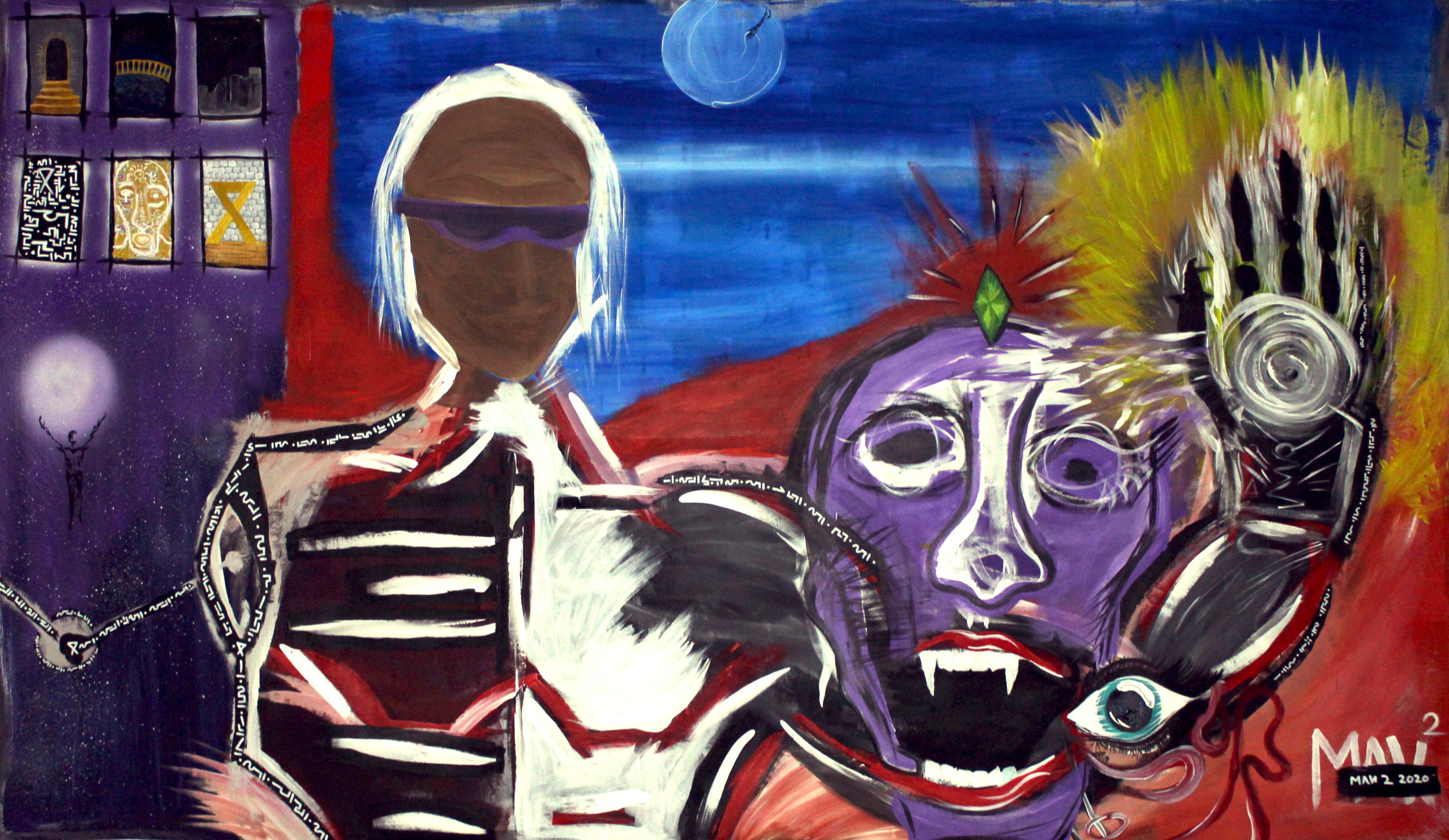 What are your artistic techniques?
Mauricio: I don't really know too much about technique. We both never went to school for it.
Maureen: I suppose we meet somewhere between surrealism, expressionism and science fiction
And what themes are consistent throughout your art?
Maureen: Mmmm, I think societal critique, mental health, spirituality.
Mauricio: I like the idea of heroes, mythology and dystopia a lot.
So you are a couple, can you tell us one way in which this influences your work?
Mauricio: Well on one side being a couple and working together is freaking awesome! As a couple you really develop chemistry. At some point you really get to know one another of course, and it's really nice when that can translate into something creative. Sometimes we're painting together and it's kind of like our minds merge into one, I'll put a line and Maureen will be like damn that's exactly where I saw it. We also have this rule, no matter what, you can never do anything wrong. So, it's really free and liberating.
Maureen: On the other hand, it's difficult sometimes because you're dating your colleague. Stress from work, especially before a gig/show tends to spill over to the personal life. It's also pretty chaotic at home while we're preparing for a show, you really live your art which is great but also very taxing mentally.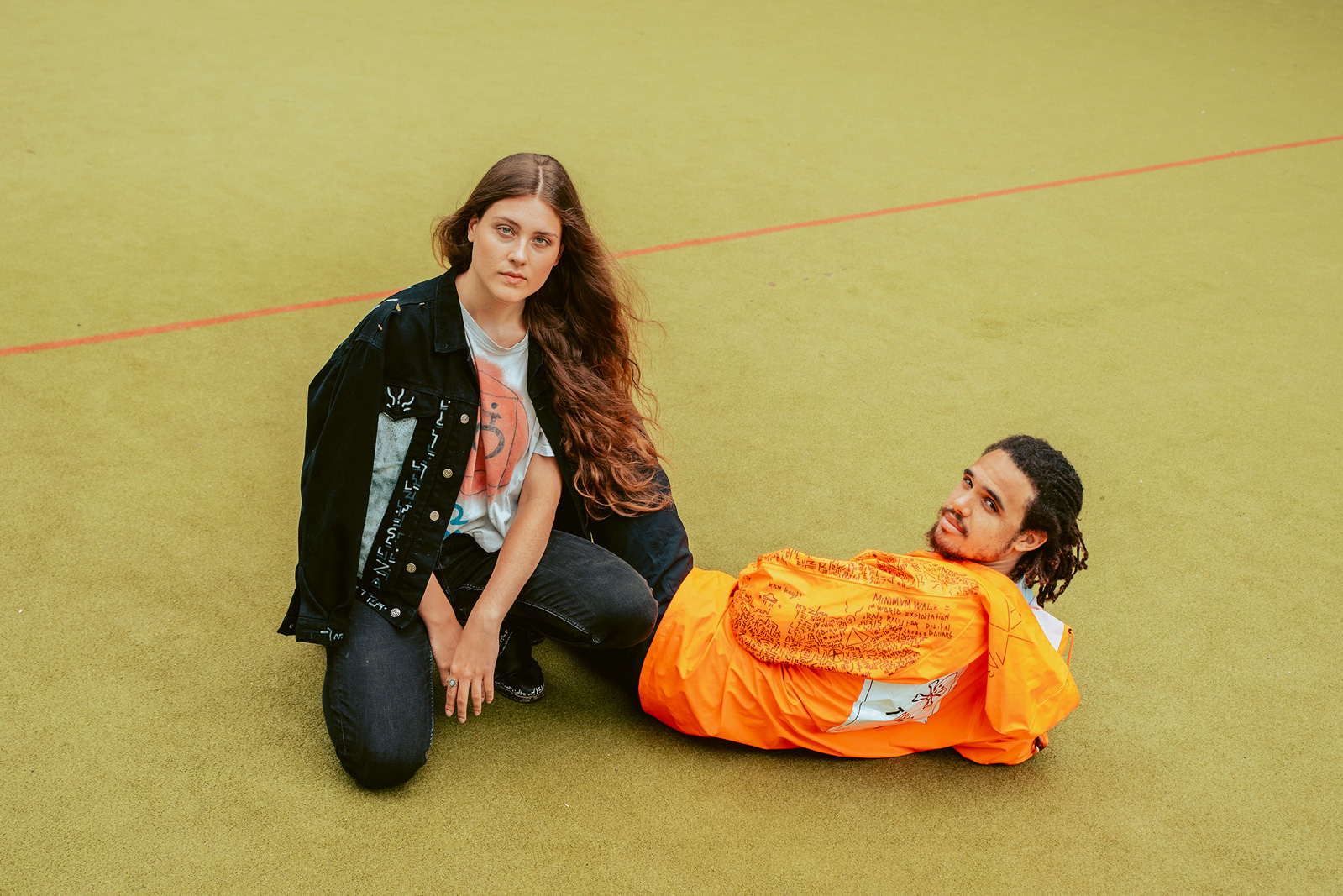 What has been the most challenging project you have taken on?
Maureen: I think our first fashion show was the hardest. We hadn't really made a name for ourselves yet so it was really stressful. We were these two people just creating and seeing if we could get some performers to wear our stuff, suddenly we had to prepare a collection for a fashion show. Like what the hell did we actually know about fashion you know? We immediately knew we wanted to do something a little different as well, to bring something fresh to the city. 
Mauricio: Yea we put so much work and effort into the collection, as well as everything around it. We actually created all the music together with Sniebl, my best friend from my days in The Hague. We had cocktails, a photographer, DJs, Live performances; it kind of set the blueprint for all the other events. Getting people to show up is always the most stressful for me. I trust the vision so much, I just want people to see it. Empty gigs are the worst man. It's really nice to have somebody like Maureen as a creative partner because during the show she was all about the vision. Making sure little details were correct on the clothing, practicing how the models would change, timetables, routes, all of that she did on her own. I was just running around making sure everybody was happy and entertained and everything was in place. We do a good job of supporting each other like that. 
How would you describe your creative process?
Mauricio: Well process wise, it's the best. Total freedom is very important. And privacy, nobody around but us. She loves listening to disco, for some reason trap really does the trick for me. Not gonna lie, some alcohol and other stuff really helps loosen the spirit. And then just go, it's important for us to be able to be free and just do what feels right without worrying too much about what the other might think. In general though I tend to do the wilder stuff and she's a wizard with detail. I used to do all the spray-painting as well but she's pretty sick with it now so we share that. We have possibly the most chaotic studio of all time. Chaos is a ladder! 
You have worked from Den Haag and Rotterdam, what role do these two cities play?
Mauricio: Well I'm from Curacao, she's from Rotterdam. When I moved to Holland at 18 I went to the Hague. It was a really important part of the journey. I used to be a pretty optimistic, maybe even a naive person. That period in The Hague is where I really started to face the mental health issues that culminated in this story people know as Surreal. At the end of my stay there I felt like I needed to get out and start fresh in a place where nobody knew me, that's what Rotterdam is for me, a fresh start to chase my dreams.
Maureen: I've been here my whole life and can't wait to get out actually. It's so funny that in a lot of ways we're total opposites.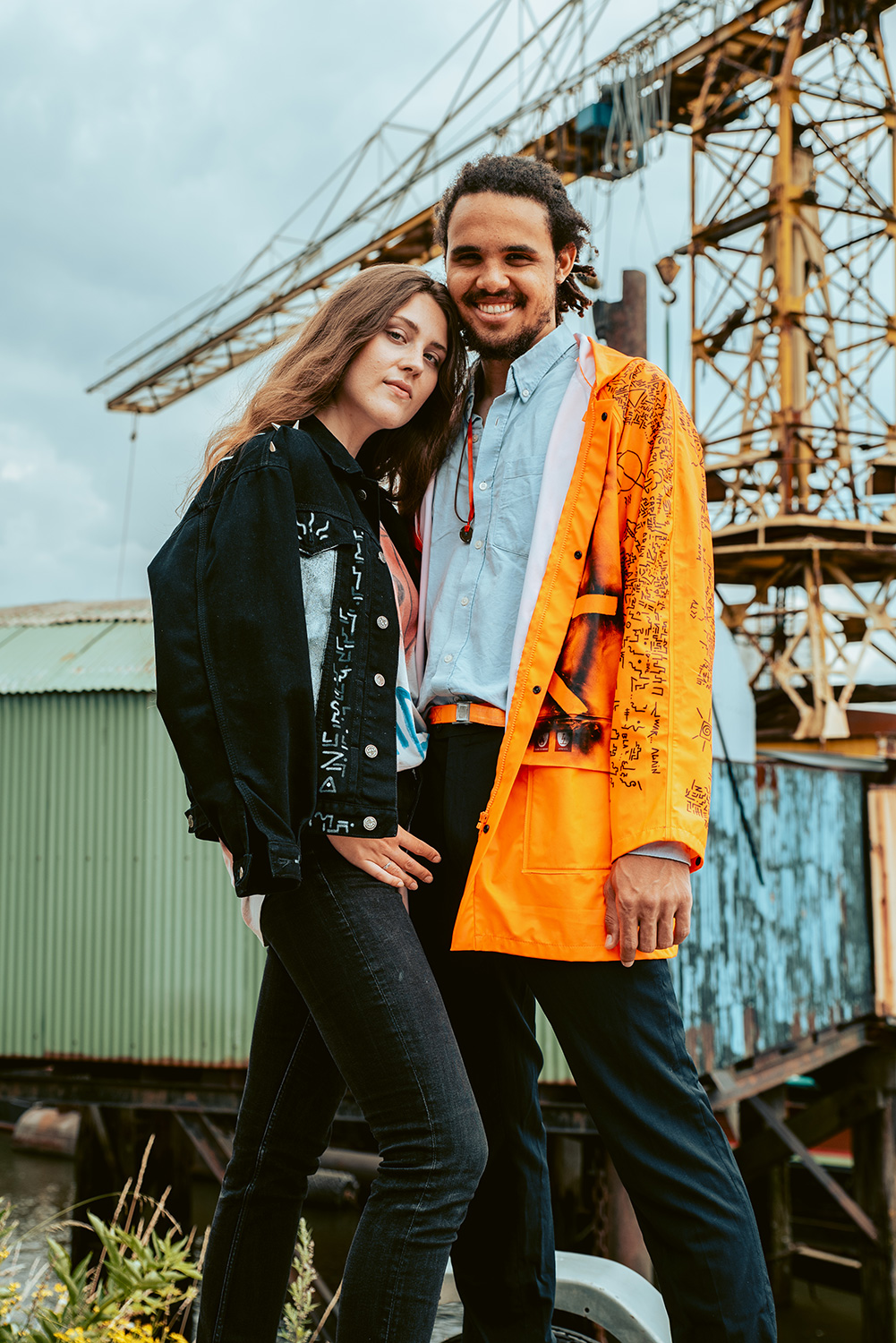 Speaking of Rotterdam, who are some creatives in the city that you have been impressed by?
Mauricio: The7thteen, Victor is actually our neighbor, so we work together a lot on all sorts of stuff. He paints, draws, builds and does tattoos. He's modeled for us a couple of times and we have this crazy collab jacket. We actually have been stocking up for something crazy but that's all a big secret still. 
Damaris is this local enigma, like if you know her you'll agree she's like the greatest artist the city has ever seen and if you don't you don't, it's kind of hard to get in touch with her because she's not about all the social media self-promotion stuff. It's beautiful to see somebody remain true to their craft, overall probably the most talented person I've ever met yea.
Bart van de Dood is also this enigmatic genius. It's crazy he's this gosha model looking guy who's totally down to earth and really pushes the envelope as far a design is concerned. I love people who challenge me to see things differently and he's definitely one of those. When I first met him he was more of a graphic designer making these really abstract things and turning them into light boxes. Now he's making these really obtrusive and disruptive construction pieces. It's really cool.
Maureen: Mo Filefo is a DJ and awesome bassist I actually went to high school with. It's super cool to see her doing her thing around town. Mau and I love watching her perform, she has amazing taste in music which always makes people dance and is one of the funkiest humans in the city right now! 
Jasmine Kelis aka Jaskelis, the name probably says enough, power woman, absolute queen making waves with her afro sound. We had the unique privilege of styling her on multiple occasions. Aside from that the three of us can also really level mentally and talk about deep stuff for hours, I love that about her, she's really got substance you know? That's something I find lacking in artists today. 
We like to keep the circle really small, we don't really believe in working with people for a larger reach or something. We've learned from trial and error it's better to work with people where the connection is genuine and lasting, so our collaborations often evolve out of friendships. We try our best to practice an organic, sort of holistic art so the connection is really the most important thing.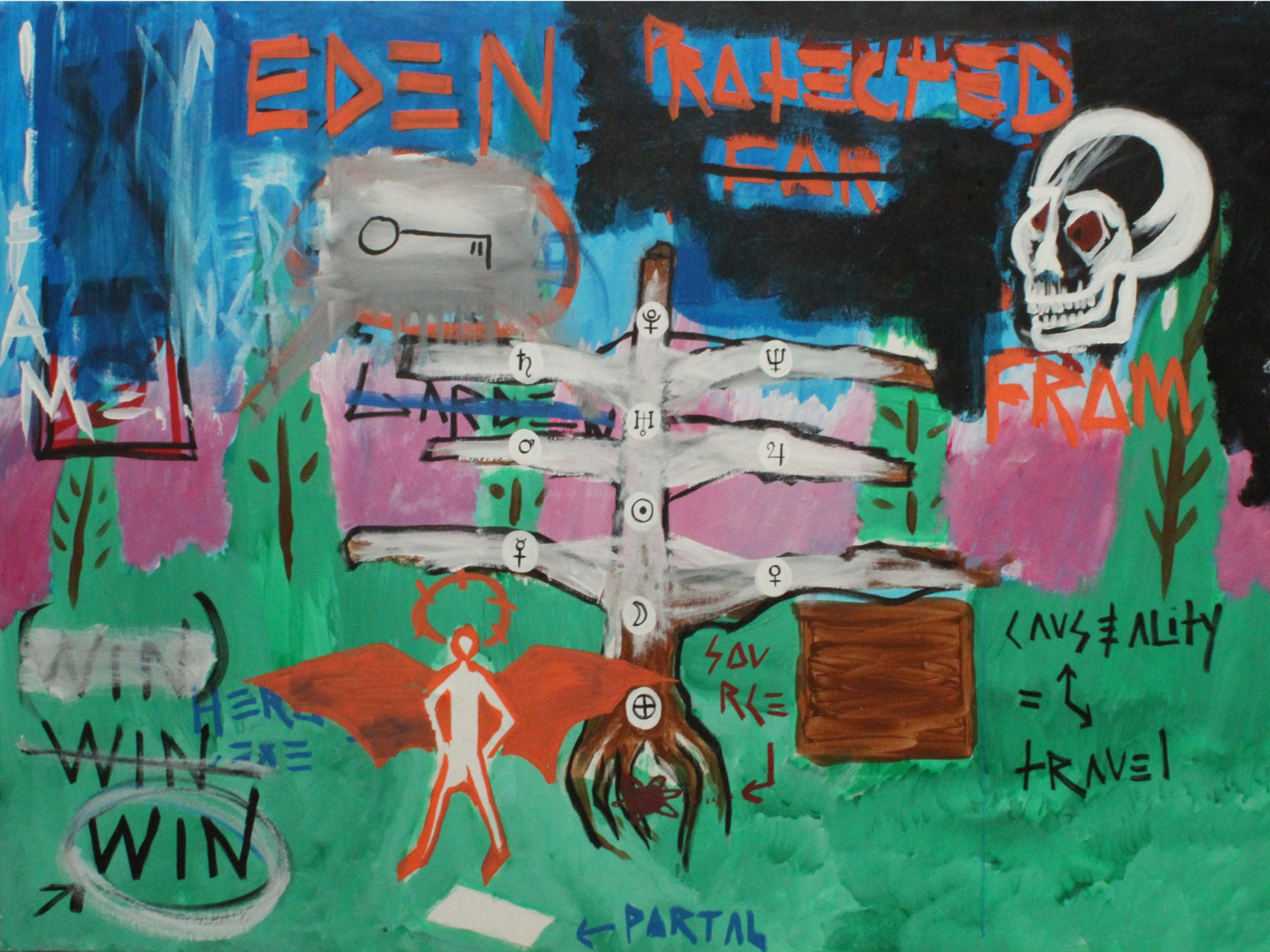 What are your favorite spots in Rotterdam?
Maureen: Ah this one is so difficult because we never go out. Shopping wise we're always at Danny de Cactus, Black widow and key music. Shout out Sniebl, he works there and always lets us play with really cool stuff! Dizzy is our spot for dancing, Bird is also really cool. We've recently started checking out Mono a little as well, cool stuff happening there, especially when Elias is in charge! 
Mauricio: I work on Witte de with so that's for sure one of my favorite places, I'm addicted to Warung mini, I love exercising at Schuttersveld and Mullerpier and I go for walks at Brienenoord Island a lot to clear my mind. Other than that our house is the embassy man! 
We would love to know what kind of impact you hope your work has?
Mauricio: Would be really nice if at some point we can use surreal as a vehicle for social change. If we could somehow be an inspiration to people to allow their imagination back into their lives and try some stuff out I'm happy. I'm always big on the mental health awareness thing as well, there's still so much stigma and suffering in silence. If people look at us and see two imperfect people wearing their imperfections on their sleeve, and making something beautiful out of it I'm happy.
Maureen: Yea I'd really like to live someplace warm, kind of in nature, away from the big city. If we can do that with our art one day it would be the best. That's really like a life goal for me. Aside from that it would also be really cool to help people on a small scale with my art, like nothing too "save the world" just giving classes, making people happy, that sort of thing.
On a final note, what can we expect from you in the near future?
Maureen: Lots of crazy, colorful and expressive art of course!